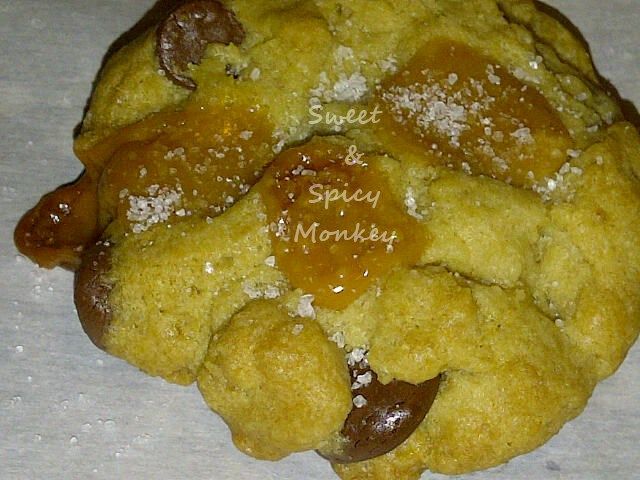 I've been wanting to jump on the salted caramel bandwagon since I first saw recipes for salted caramel this and that, basically anything you could think of, back in the spring. Since I was in the mood for baking cookies, holidays and all being my excuse, I thought I would finally breakdown and try what everybody has been talking about. I came across a recipe for Salted caramel pecan chocolate chip cookies by Sally's Baking Addiction and just had to make 'em today! Just look how yummy these cookies look!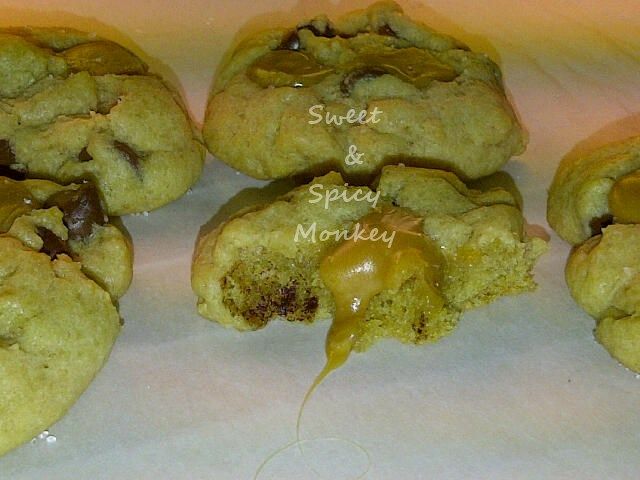 As always, I tweaked the recipe a bit to my liking, and they still turned out deliciously yummy! These cookies are soft, chewy, and chocolaty with just a hint of saltiness. Just enough of all ingredients to keep you reaching for more! As a matter of fact, I don't really know how many the batch made because I couldn't stop eating them!! But I ended up with 25 cookies when I was finished! There ya go, one batch makes approximately 25 cookies ( if you and your family don't eat all of them before you're done baking!). I believe Sally would be proud of me. So here's my recipe for Soft Chewy Chocolate Chip Salted Caramel cookies….
Soft Chewy Chocolate Chip Salted Caramel cookies
Ingredients
¾ cup unsalted butter, softened to room temperature
¾ cup brown sugar (I used Organic light brown sugar)
¼ cup white sugar
1 large egg
2 teaspoons vanilla extract
2 cups all-purpose flour
2 teaspoons corn starch
1 teaspoon baking soda
½ teaspoon salt (I used sea salt)
1 cup semi-sweet chocolate chips
14 wrapped caramels, cut into approximately 6 small pieces
Sea salt to top cookies
after
baking
Directions
Place parchment paper on two cookie sheets and set aside.
In a large mixing bowl, add softened butter and sugars together. Mix together until fluffy. Add in egg and vanilla, mixing well.
In a separate bowl add flour, corn starch, baking soda, and salt and cut with a knife one or two times. Slowly add to wet ingredients, mixing well. Once all dry ingredients are mixed in, add chocolate chips and mix chips throughout the dough. Dough will be sticky and thick. Place bowl with dough mixture in refrigerator and chill for 30 minutes.
Preheat oven to 350 degrees F. Place your lined cookie sheets on counter, grab cookie dough bowl out of refrigerator, and spoon approximately one tablespoon full of cookie dough mixture into your hands, rolling dough into balls. Place balls on lined cookie sheet, placing about 3 inches apart. Gently press dough ball down with your palm, just enough to make a flat top on dough ball. Take a few pieces of cut caramel chews and press on top of the dough ball like the image below: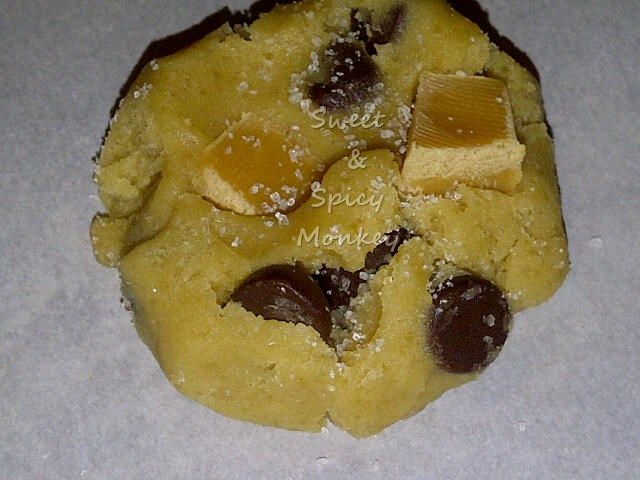 Bake for 8-10 minutes at 350F. Do
not
cook longer than 10 minutes. You will
not
see any browning around the edges.
Remove from oven and immediately sprinkle sea salt on top of warm cookie. Let cool for approximately 5 minutes before removing cookies from cookie sheets. Once cooled, remove from cookie sheet and place on wire rack.
Enjoy the chewy salted caramel chocolaty delight this cookie is!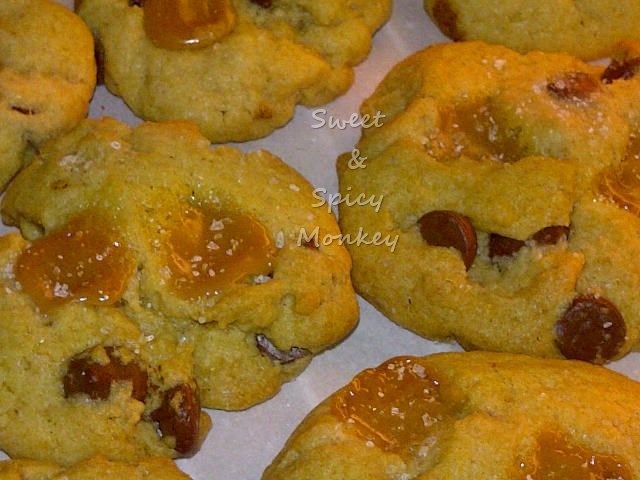 *Don't let the parchment paper and refrigeration scare you away from making these cookies. They're really quite simple to make.
*You can use the same sheets of parchment paper on each cookie sheet with the remaining dough mix. Meaning you don't have to replace paper with each dough batch put into the oven.
*It's important to keep cookie dough mix in refrigerator between batches to keep it chilled before cooking.
*When I say to cut the flour mixture with a knife, I mean to insert a knife into the flour mixture and give it one or two swirls, mixing the dry ingredients together.

All content and images are property of Sweet and Spicy Monkey. Please do not reprint this content without my permission. If you wish to include this recipe on your site, please re-write in your own words and use your own photographs. Or you can link back to this post for the recipe.