With all this cold weather, I keep finding myself thinking of summertime. The sun's rays shining down from the sky to warm your skin, playing in the water, summer flowers, and going barefoot every day. And living here in Georgia, nothing beats a home grown tomato during the summer! Red, ripe tomatoes with their sweet, salty, tangy flavor that tastes delicious all by themselves. Not to mention, their red, robust color that brightens any meal. Tomatoes always remind me of summer.
And the best way to bring a little bit of summer to these gloomy, cold days of winter is to bring a taste of summer back into your life. Nothing does that better than tomato soup! Tomato soup has been my favorite soup ever since I was a little kid, and now I understand why since it reminds me of summer days. Its rich, creamy texture along with its sweet, tangy flavor warms you up for a little while when it's still cold outside.
Surprising to believe since it has always been my favorite soup, I have never made homemade tomato soup before this past weekend. I really don't understand why since it's so easy to make and taste much better than canned soup. The flavors really explode when you make your own tomato soup. The taste of basil, oregano, and thyme with the rich flavor of tomatoes…Mmm, my tummy's rumbling just thinking about it! Of course, as my mom always says, "everything's better when it comes from the heart". So true mom, so true!
Here's my recipe for homemade creamy tomato soup. I'm certain it will help keep you warm during these cold days of winter.
Creamy Tomato Soup
Ingredients
2 Tablespoons Olive oil
4 garlic cloves, roasted
1 shallot, diced
28 ounce canned Organic Crushed tomatoes with Basil
14.5 ounce canned Organic diced fire-roasted tomatoes
4 fresh Basil leaves
½ teaspoon fresh oregano
1/8 teaspoon dried thyme
1 Tablespoon granulated sugar
2 cups Organic vegetable broth
1 and ¼ cups half and half, fat-free
Salt and pepper to taste.
Directions
Preheat oven to 400F degrees.
Cut top off garlic bulb, leaving the tips exposed.
Place on aluminum foil, a sheet large enough to wrap bulb in.
Drizzle ½ to 1 Tablespoon olive oil over top of garlic to help keep exposed tips moistened while they cook and wrap bulb in foil.
Cook for 1 hour or until bulb is tender. *Cool to room temperature. **Important so you don't burn your fingers.
Add in diced shallot and sauté until tender, about 2-3 minutes. Let cool.
Unwrap garlic and gently squeeze out 4 garlic cloves. Cloves will be soft and tender.
In a blender or food processor, add crushed tomatoes with garlic, shallot, basil leaves, oregano leaves, thyme, and sugar. Blend until mixture is smooth or desired consistency (I prefer mine smooth instead of a chunky soup).
Pour into crockpot.
Blend remaining diced tomatoes until smooth and pour into crockpot.
Add in vegetable broth. Stir mixture.
Set crockpot on Low setting and cook for 3-4 hours.
During last 30 minutes of cooking, add in half and half.
Continue cooking on Low setting for remaining 30 minutes, stirring occasionally.
Add salt and pepper to taste.
Serve with grilled cheese sandwiches, grilled cheese croutons, French bread, pita chips, or crackers.
Helpful Hints:
*You do not have to use organic ingredients or fresh herbs to make this soup. Just remember the rule for using fresh herbs to dry - when cooking with fresh herbs, you need to use three (3) times the amount as compared to recipes that call for dried herbs.
*You can also use regular or low fat half and half instead of fat free.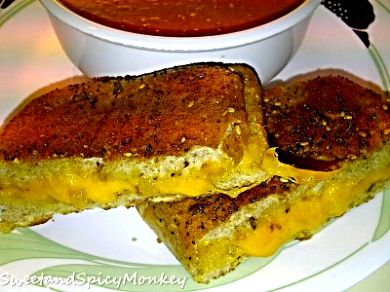 All content and images are property of Sweet and Spicy Monkey. Please do not reprint this content without my permission. If you wish to include this recipe on your site, please re-write in your own words and use your own photographs. Or you can link back to this post for the recipe.