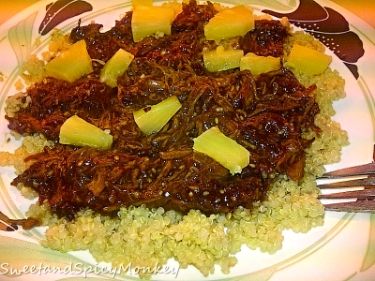 Ever since I quit eating anything with beef and pork (going on almost 2 years now), trying to find a recipe for chicken that hasn't already been done is hard to do. But I finally found a recipe for chicken that is out of this world! Not only does it taste yummy, but it's a crockpot recipe and simple to make! That meets 3 of my recipe requirements:
1.) is yummy
2.) get to use my crockpot!
3.) is simple to make.
I found this recipe on Pinterest (my new go to place for recipes of any kind) when I was just browsing. It comes from Kelly Senyei of Just a Taste food blog at
www.justataste.com
Usually when I find a recipe, I make it as written the first time around. If I make it again, I usually change the ingredients by adding something else that I think will make it taste better. I didn't have to do any of that with this recipe as Kelly has perfected this recipe to a tee! It was mouthwatering good just like she wrote it although I did add some diced pineapple.
Even though this recipe is not mine, I just had to share the goodness with y'all. This recipe will make you love chicken once more! No longer is the chicken dry and tasteless. This chicken is juicy, sweet, tangy, a little bit of spicy, and plate-licken' good! Yep, you read that right, plate-licken' good as this recipe makes you wana lick your plate after you finished your meal! It is just that good I can't even think of words you haven't already heard to describe it! You just have to try it and tell me what you think. Just look how juicy this is!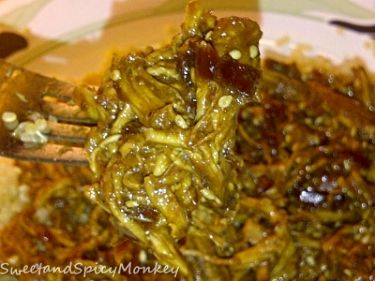 And not only am I sharing this meal, but I also added a recipe for homemade hoisin sauce, which this chicken recipe calls for, since I try to make stuff at home because I don't want all the added preservatives and sodium. Of course, that rule goes out the window when it comes to sweets!
The hoisin sauce recipe will be posted below the slow cooker Honey Garlic Chicken recipe if you prefer to make your own hoisin sauce too.
Here's the recipe for slow cooker Honey Garlic Chicken…
Ingredients
3 Boneless, skinless chicken breasts
½ cup honey
½ cup Low Sodium Soy sauce
¼ cup Blackberry jam
¼ cup Hoisin sauce (homemade recipe of hoisin sauce listed below)
2 Tablespoons Olive oil
3 cloves garlic, minced
½ cup diced onion
¼ teaspoon crushed red pepper flakes (optional)
1 Tablespoon cornstarch
1 Tablespoon Sesame seeds
¼ cup diced pineapple, drained (optional)
Directions
Place chicken breasts in bottom of crockpot so they do not overlap.
In a medium bowl, mix together honey, soy sauce, blackberry jam, hoisin sauce, olive oil, garlic, onion, and red pepper flakes. After ingredients are well blended, pour over chicken breasts.
Place the cover on crockpot and turn temperature to Low setting. Cook on Low for 4-5 hours, until chicken is thoroughly cooked.
Once chicken is done cooking, remove chicken from crockpot (don't use your fingers as chicken will be HOT!) and place on a clean plate or cutting board. Turn off your crockpot, leaving the juices inside for now.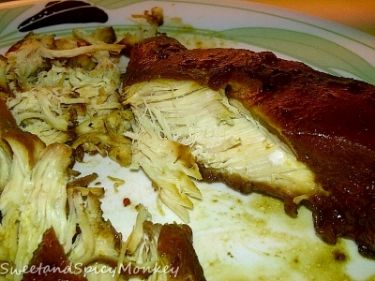 Using two forks, gently pull the chicken meat apart, shredding the meat.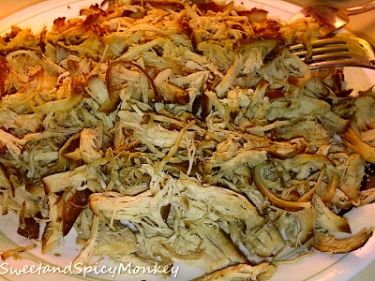 Place shredded meat in a large mixing bowl. Set aside.
In a small bowl, take the cornstarch and mix it with 3 Tablespoons of cold water until the lumps are gone. There might still be a few small lumps, but try to dissolve all of the cornstarch into the water.
Taking the juices from the crockpot, pour into a small sauce pan set over medium heat and slowly add in the cornstarch mix, blending well.
Bring to a boil and continue cooking until it becomes thicker, about 3 minutes, or until desired thickness. Remove sauce pan from heat.
Pour sauce over the shredded chicken, mixing thoroughly.
Sprinkle sesame seeds and pineapple over chicken.
Serve over rice, couscous, or quinoa.
*Could also be served up on Ciabatta or French bread as a sandwich.
Yields – 4 servings
Prep time – 20 minutes
Cooking time – 5 hours.
Hoisin Sauce
I came across this recipe at
http://chinese.food.com/recipe/homemade-hoisin-sauce-312992
by author Alskann, when I was making an Asian meal and wanted to make my own sauce. I found this sauce to be exceptionally delicious, complimenting the flavors of the foods, and easy to make. So if you want to make your own hoisin sauce for the slow cooker Honey Garlic Chicken, this is the recipe for you!
Homemade Hoisin sauce
Prep time - 10 minutes
Ingredients
4 Tablespoons Soy sauce or low sodium soy sauce
2 Tablespoons creamy peanut butter
1 Tablespoon molasses or 1 Tablespoon Honey
2 teaspoons seasoned rice vinegar
1 garlic clove, minced
2 teaspoons sesame oil
1 teaspoon Sriracha Hot chili sauce
1/8 teaspoon black pepper
Directions
Place all of the ingredients in a small mixing bowl and whisk until completely blended.
Add to desired meal.
Helpful Hints:
*You can make this spicier by adding more red pepper flakes to your liking or make it kid-friendly and leave out the red pepper flakes.
Slow Cooker Honey Garlic Chicken recipe by Kelly Senyei of Just a taste. Please do not republish without her permission. If you would like to share this recipe on your site, please write in your own wording the method of preparation and use your own photographs. Also link to Kelly's site as the original post at http://www.justataste.com