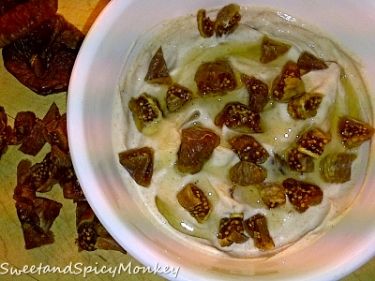 As I was shopping in the produce section of my local supermarket, something caught my eye, it was figs. When I was little, one of my neighbor's grandma, who lived down the street from us, had a fig tree in her backyard. I remember going over there to pick the figs off the tree. Mmm, the taste of those figs picked right off the tree on a hot summer day, all gooey and sweet, we ate as many as we could! Needless to say, when I saw the figs that day in my supermarket, it brought back a lot of memories. And remembering how good they tasted, I bought some.
I can eat figs all by themselves and I bought these because I thought figs would be great for work when I needed a pick me up. But the other morning as I was eating my yogurt, I thought to myself that figs would be quite a tasty addition to my usual plain yogurt. As the wheels started turning in my mind to create something tasty, I came up with this recipe for honey and fig yogurt. I was quite surprised with how delicious it really was!
The creaminess of the yogurt, the sweetness of the honey combined with that of the figs, the crunchy texture of the fig seeds, paired with cinnamon and ginger….Oh my, I felt like I should be sitting oceanside in Greece while sipping an espresso and enjoying my honey and fig yogurt! Sigh….a girl can dream!
To get back to this healthy, sweet creation I made, not only is it simple to make and scrumptiously yummy, but it's good for you too! Four figs contain a whopping 359mg of potassium, are fat-free, and with only 160 calories! Added to yogurt, this meal is a great way to start your day or to have as a snack.
Maybe you too can be swept away while enjoying this honey and fig yogurt to the Mediterranean seas. Maybe for a little while, at least until the dog barks, or your hunny asks you where the car keys are, or you're startled out of your daydream by the buzz of your phone. Sigh….
Honey and Fig Yogurt
Prep Time - 7 minutes
Ingredients
1 cup plain yogurt
4 dried figs
¼ teaspoon cinnamon
1/8 teaspoon ginger
1 Tablespoon Honey
Directions
Take 4 dried figs and cut off pointed top.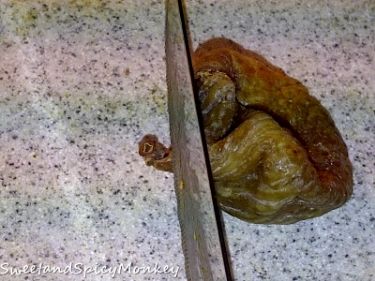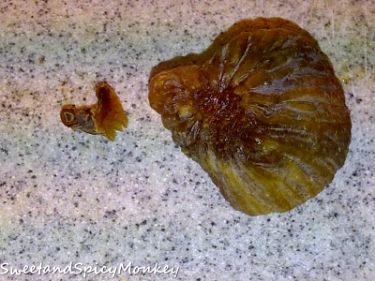 Slice figs into small bite size cubes. Set aside.
In a small bowl, add yogurt, cinnamon, and ginger, and ½ Tablespoon honey. Blend well making sure spices are thoroughly mixed with yogurt.
Combine figs pieces to yogurt mixture.
Drizzle remaining honey over mixture and be prepared to be swept away!

All content and images are property of Sweet and Spicy Monkey. Please do not reprint this content without my permission. If you wish to include this recipe on your site, please re-write in your own words and use your own photographs. Or you can link back to this post for the recipe.