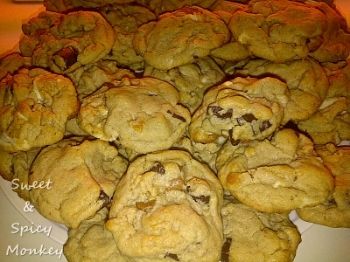 It was warmer in Iceland yesterday with a balmy temperature of 33.1F degrees than it was in my hometown of Georgia, USA, where the morning temperature was a frosty 6F degrees and the high was a cozy 27F degrees! I was wearing sweats, thermals, socks, and had the heat on and still feeling chilly inside my home. All I can say about this polar vortex is that it makes for a great time to start baking!
As I was searching through my recipes and cupboards trying to figure out what to bake, I realized I had bags where I only used half of the contents or more of candy and chocolate chips in different flavors where it wasn't enough to make a full batch of cookies but just enough to tempt you to grab a handful as you walked by. So as I was going through my recipes on Pinterest, I came across this great idea of gathering up all the half used candy bags and adding them all to one delicious peanut butter cookie batch! Thanks to Jocelyn of
insidebrucrewlife
I discovered what to do with all these bags of candy.
Now being the self-proclaimed peanut butter connoisseur that I am, I have got to say, this is the BEST peanut butter cookie dough recipe that I have ever tasted!! It makes a light and fluffy cookie with a hint of peanut butter flavor….Oh my, I'm drooling on my keyboard just thinking about it!! I had to use a lot of willpower to keep myself from eating just the cookie dough before I baked the cookies. And the reason I didn't eat all the baked cookies is because I was just too full and couldn't eat anymore! There goes the diet…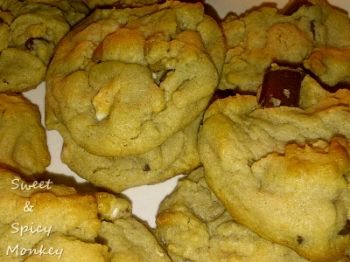 So, with all my half bags of Reese's white chocolate peanut butter cups, peanut butter and chocolate chips, and chocolate chunks I made these Peanut butter chocolate bits cookies. The "bits" are all the leftover candy and chips I had in my cupboard. I can't really call them "chips" because I also added quartered Reese's white chocolate cups since I was going with the peanut butter theme. Plus, I didn't know what else to add them to at the moment and they just sounded like they would be yummy in these cookies. The white chocolate really adds to the flavor of these cookies.
With that said, you can also add any leftover candies or chips that you think will be scrumptious in this peanut butter dough and come out with your own recipe for Peanut Butter Chocolate Bits cookie! You really need to try the concoction I came up with as these are lip-smacking good and I am certain you will agree!!
Peanut Butter Chocolate Bits Cookies
Ingredients
1 cup softened butter
½ cup sugar
1 cup Brown sugar, packed
2 teaspoons Vanilla
2 large eggs, beaten
1 cup creamy peanut butter (can also use chunky peanut butter)
2 cups flour, sifted
¼ teaspoon salt
½ teaspoon Baking Soda
1 tablespoon Cornstarch (this makes the cookies Fluff)
¼ of a 12-ounce bag chocolate chunks
¼ of a 12-ounce bag peanut butter and chocolate chips (it's a chip that has both peanut butter and chocolate swirled together, Mmmm!)
½ bag of Reese's white chocolate peanut butter cups, quartered. (Freezing them beforehand helps keep the cups from falling apart to pieces, if they do crumble, no biggie, they still taste great!)
½ of a 12-ounce bag of semi-sweet chocolate chips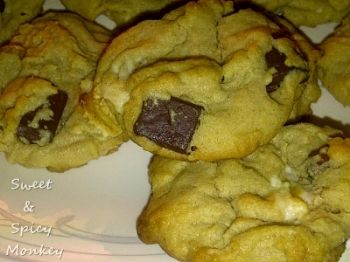 Directions
Preheat oven to 350F degrees.
Spray cookie sheets with non-stick spray. Set aside.
In a large mixing bowl, combine softened butter with white and brown sugars until creamy.
Add vanilla, eggs, and peanut butter until well blended.
Sift together flour, salt, baking soda, and cornstarch in a separate bowl.
Mix in dry ingredients a little at a time with peanut butter mixture until blended thoroughly.
Mixing by hand, add in quartered Reese's cups and chips, blending throughout dough mixture.
Drop tablespoon size balls onto lightly greased cookie sheet.
Place cookie sheet in pre-heated oven for 10 minutes. Until cookies show a little bit of browning around the edges.
After taking cookies out of the oven, let cookies cool on cookie sheet for 5 minutes before placing them on a wire rack to cool completely.
After cookies have completely cooled, store in an airtight container.
Makes approximately 40 cookies.
*I can't tell you exactly how many because I ate some while baking!! Ok, I ate a lot!!
Helpful hints:
*I find after you put your cookies in an air tight container and place them in the refrigerator, they stay fresher.
Let me know how you like these and any other "bits" you added to the cookies. Enjoy!

All content and images are property of Sweet and Spicy Monkey. Please do not reprint this content without my permission. If you wish to include this recipe on your site, please re-write in your own words and use your own photographs. Or you can link back to this post for the recipe.