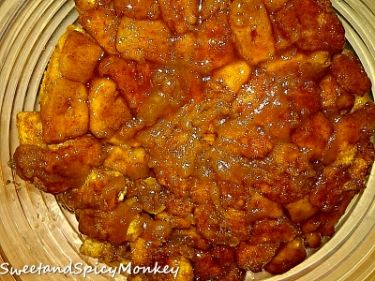 I remember my first taste of monkey bread, an ooey, gooey cinnamonee bread that you eat with your fingers! Since then, I've only made monkey bread once because I was kinda disappointed when all the bread pieces didn't cook all the way through. Yea, not to tasty when you bite into a piece of raw dough! Ick!
So when I came across this recipe, I wasn't quite sure about making it but I couldn't give up without trying sweet and spicy monkey bread. After all, it has my namesake!
Whenever I see pictures of monkey bread, they always layer the dough pieces 3 or 4 stacks high, which is what I did when I first made it. So I decided to try something different this time. I layered my pieces in a cake pan and only placed a few pieces on top of the first layer hoping the pieces would cook thoroughly. I only had one cake pan, so I used a bread pan for the rest and did the same thing. This way at the most, there is only 2 layers. You can also use a brownie pan, just make sure it's a metal pan.
Wa La! Not only were all the pieces cooked thoroughly, but they all had been drenched with the sugary butter mixture, making them ooey gooey cinnamonee sugary finger licking good (if you have noticed yet, I love eating sugary treats with my fingers).
I adapted this recipe from
Rachel Ray's Superbowl Sweet Spicy Chocolate Monkey Bread
. I used less cayenne pepper since I wasn't sure how it would taste because I've never mixed cayenne with my chocolate before. I was surprised that you can't even taste the cayenne and it really does accentuate the flavor of the chocolate! And the chocolate flavor isn't overpowering, it's a mild flavor that emphasizes the cinnamon! All the flavors of cayenne, chocolate, and cinnamon blend together beautifully in this recipe that you won't be able to resist having just one bite!
This bread makes a great addition to any get together since it's already in bite size pieces (Hint, hint… Superbowl is coming up next weekend). This bread will be a big hit at breakfast too!
Sweet and Spicy Monkey Bread
Ingredients
½ cup granulated (white) sugar
1 teaspoon cinnamon
1 and ½ teaspoons unsweetened cocoa powder
1/16 teaspoon cayenne (red) pepper
¼ teaspoon sea salt
2 cans of refrigerated buttermilk biscuit dough
1 cup brown sugar
¾ cup unsalted butter
Directions
Preheat oven to 350F degrees.
In a large zip lock bag, combine white sugar, cinnamon, cocoa powder, cayenne pepper, and salt. Seal bag and shake to mix together. Set aside.
Pop the biscuits out of their packaging and separate biscuits.
Cut biscuits into quarters.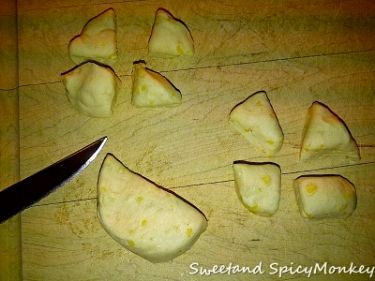 Place quartered biscuits into zip lock bag, seal, and shake until all pieces are covered in sugar & spice mix.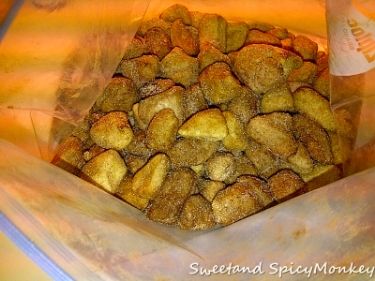 Arrange biscuit pieces to cover bottom of pan (preferably a metal pan like a cake pan, bread pan, or brownie pan) covering entire bottom of pan, with no more than 2 layers.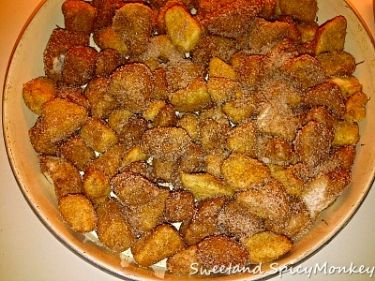 Place butter and brown sugar into a small saucepan and heat until melted, stirring occasionally.
Pour melted butter and brown sugar over biscuit pieces.
Place pan into oven and cook for 25-30 minutes.
Cool in pan for 10 minutes before transferring to another dish so the gooeyness will be on top. Be careful as pan will still be hot to the touch so be safe and use oven mitts to protect your hands.
Serve warm.

All content and images are property of Sweet and Spicy Monkey. Please do not reprint this content without my permission. If you wish to include this recipe on your site, please re-write in your own words and use your own photographs. Or you can link back to this post for the recipe.