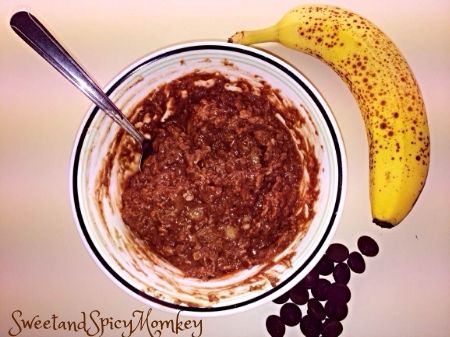 This morning I woke up craving chocolate. I don't know what's going on since I usually don't wake up craving chocolate. Maybe it was all the Valentine's treats or maybe it's this weather we've been having…8 degrees one week, the next week we're in the 70's?!? What the….. ??? Mother Nature and my hormones are starting to act way too much alike here!
Now since I have my cheat days on Sunday (yes, one day a week I indulge myself so cravings like this will not happen…pppfffff, so much for that!) I had to make a healthy choice for breakfast, yet indulge in this intense chocolate craving.
And lucky for me, I found the perfect substitution. I just took my daily oatmeal recipe, added a banana and some cocoa powder with a little bit of honey and waalaa…a healthy breakfast that has satisfied my chocolate craving. So far, so good as it is 1:30 p.m. here now and no cravings!
I hope my chocolate banana oatmeal helps satisfy your chocolate cravings too next time you wake up like I did this morning. It's simple to make, healthy, and curbs those chocolate cravings!
Healthy Chocolate Banana Oatmeal
Prep Time - 5 minutes
Cook Time - 2 minutes
Ingredients
¼ cup oatmeal, uncooked
2 Tablespoons vanilla protein powder
1 Tablespoon wheat germ
1 Tablespoon cocoa powder
1 banana, sliced
¾ -1 cup water, enough to keep oatmeal moist while cooking.
Honey to taste
Directions
Place all dry ingredients into a microwavable breakfast bowl, stir together, mixing well, so protein powder will not clump while cooking.
Combine water and mix. *You want it to be slightly watery as it will absorb when cooking.*
Stir in banana.
Place bowl in microwave and cook for 1 minute. After 1 minute, stir well. You can add more water if needed at this time.
Cook for another 40 seconds to 1 minute longer.
Remove bowl from microwave, add honey to taste, mixing well.
Let cool for approximately 1-2 minutes before eating. *Be careful when taking that first bite as it will be hot! *
*Helpful Hints*
- You can use milk instead of water.

All content and images are property of Sweet and Spicy Monkey. Please do not reprint this content without my permission. If you wish to include this recipe on your site, please re-write in your own words and use your own photographs. Or you can link back to this post for the recipe.