Pizza is an all year favorite! It doesn't matter what the temperature is outside, nothings better than a hot slice of pizza, with its white cheese stringing from your plate to your mouth….YUM! And it's fun to eat because you can eat it with your hands (my kinda food!)
When I was growing up, there were the all-time favorite toppings for your pizza – cheese and pepperoni, cheese and sausage, plain cheese, Canadian bacon and pineapple (that was considered wild & crazy), and the meat lover's pizza with sausage, pepperoni, and Canadian bacon sprinkled with bacon bits! That was pretty much the selection of pizza available to us back then.
Now a days, people have gotten creative with their pizzas, like the buffalo chicken pizza or Middle Eastern pizza with lamb. And the vegetarian pizzas with toppings including but not limited to: spinach, cilantro, pumpkin, chick peas, arugula, or sweet potato. Wow! Who da thunk? Sweet potato on a pizza! All this creativity with our pizza toppings does make for a better selection of pizzas.
After all, if we stayed with the five basic types of pizza mentioned earlier, I never would have come up with this recipe for my Mediterranean Pizza with white sauce. Yes, you read that right, white sauce. And no it's not Ranch based.
My "white sauce" is basically olive oil brushed on a pizza crust with minced garlic sprinkled over it and lightly swirled to mix the two together. Now for this pizza, I've added basil paste and pesto because I love the taste of basil! Plus it doesn't have the acidity of tomato sauces and it gives the pizza a more Italian taste with the garlic and basil flavorings. I love this white sauce so much that I no longer use tomato sauces for my pizzas.
Usually I use ready-minced garlic from the store but since I ran out and never replenished my supply, I only had fresh garlic on hand. I thought it would take me a long time to prepare (mince) the garlic and a lot of garlic to make this pizza. But really, it didn't take long at all and I averaged about one bulb of garlic (give or take a few cloves) for one large pizza. And it's not an overpowering, knock you off your feet, garlic taste, it's actually a mild garlic taste that enhances the artichoke, onion, olives, and basil flavors.
But don't take my word, make my Mediterranean pizza with white sauce tonight and let me know what you think.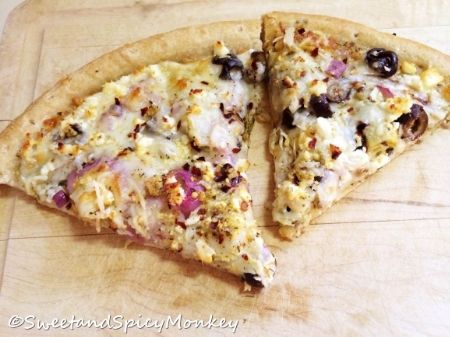 Mediterranean Pizza with white sauce
Ingredients
1 pizza crust, ready made
2 Tablespoons olive oil
1 bulb garlic, separated, peeled, and minced
2 Tablespoons Basil paste
1 Tablespoon pesto
10 fresh basil leaves, washed and rinsed
½ cup fresh parmesan
2 cups mozzarella cheese, shredded
¼ cup black olives, sliced
½ cup red onion, diced
¾ cup artichoke hearts, quartered
Feta cheese, crumbled
Salt and pepper to taste
¼ teaspoon red crushed peppers *optional*
Directions
Preheat oven 425F degrees.
Place unwrapped pizza crust on a pan. If you don't have a pizza pan, a cookie sheet will do.
Measure 2 Tablespoons olive oil and place on top of crust. If you have a cooking brush, lightly brush olive oil around on crust, leaving a ½" from the edges untouched. If you don't have a cooking brush (like me) swirl olive oil around on crust leaving approximately ½" untouched. The plain part will be your "crust".
Sprinkle minced garlic onto prepared crust and mix with olive oil, spreading evenly over crust. Still maintaining ½" "crust".
Measure your basil paste and pesto and spread evenly over olive oil and garlic mix.
Place fresh basil leaves over basil paste, pesto, olive oil, and garlic mix.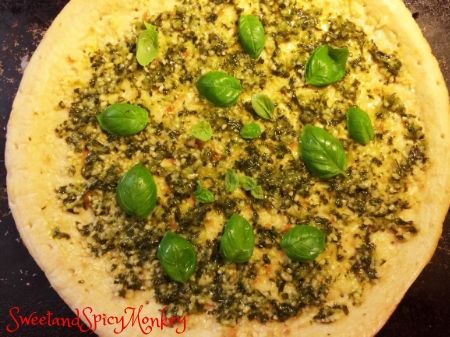 Sprinkle 1 cup mozzarella cheese and ¼ cup parmesan cheese over prepared pizza, leaving your ½" crust.
Place artichokes hearts, olives, and onions evenly over cheese.
Sprinkle remaining cheeses on top, with feta cheese being last.
Season with salt, pepper, red crushed peppers.
Cook for 12-18 minutes or until cheeses are lightly browned around the crust.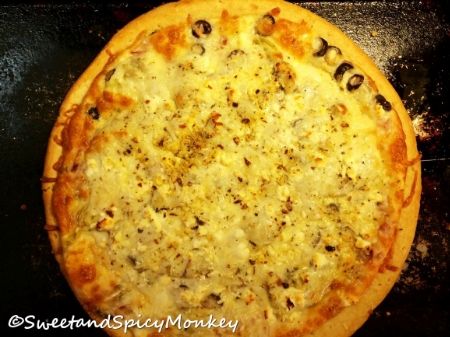 Remove from oven. Let sit for 1-2 minutes. Slice and serve.

This recipe featured on
Shared with ~
All content and images are property of Sweet and Spicy Monkey. Please do not reprint this content without my permission. If you wish to include this recipe on your site, please re-write in your own words and use your own photographs and link back to this post for original recipe.