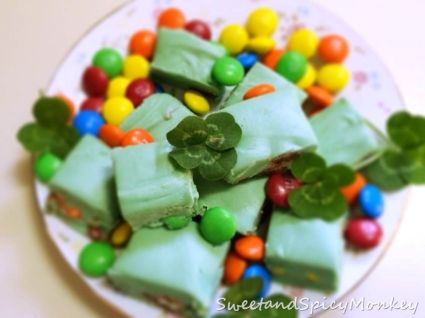 It's already March! The birds are singing, the trees are starting to bloom, and St. Patrick's day is just around the corner. Before we know it, we will have the hot, sweltering days of summer once again! But let's not get ahead of ourselves, let's enjoy the mild, sunny days of spring while they are here (even though it is still winter).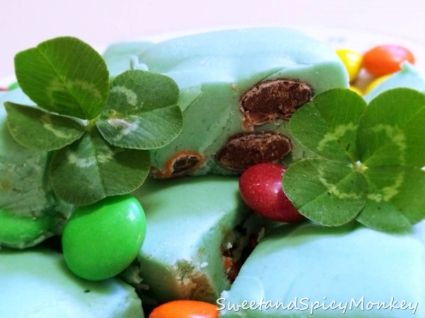 As luck would have it, when I went to gather some clover for the pictures out of my front yard, I actually found 2 four leaf clovers without even looking for them! That's them in the pictures above and below. I sure could have used them last week!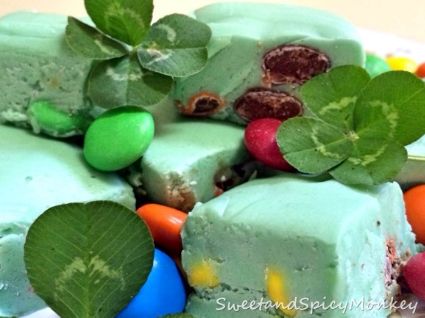 In celebration of St. Paddy's day, I made this Shamrock Rainbow Mint fudge, a creamy, melt in your mouth white chocolate, all dressed in green, with a hint of peppermint and chocolate M&M's…a perfect mouthful of mint and blended chocolates, like your own little pot of gold at the end of the rainbow! The M&M's add the rainbow effect with their multiple colors and are the perfect balance of chocolate to the creamy vanilla and mint taste.
You would be surprised with how easy it is to make this fudge, and in only about 15 minutes, which is a whole lot quicker than making cupcakes! The only thing you have to be consistent about in making fudge is to keep on stirring because if you don't, it might burn, which will ruin the whole batch. So if you can stir, you can

make your own

fudge!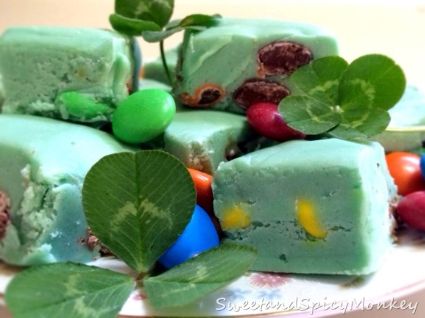 So let's create some magic in the kitchen for your family and friends with this Shamrock Rainbow Mint fudge. They are sure to be magically delighted!
Shamrock Rainbow Mint Fudge
Ingredients
1 and ½ cups granulated sugar
6 Tablespoons unsalted butter, cut into 6 pieces
1/3 cup evaporated milk
1 cup white chocolate chips
1 cup green candy melts
1 and
½
cup marshmallow fluff (approximately ¾ the container)
1 teaspoon vanilla extract
1 teaspoon peppermint extract
1 cup chocolate M&M's
Directions
Prepare an 8 x 8 dish by spraying with a non-stick spray, wiping off excess with a paper towel.
In a large saucepan, combine sugar, milk, and butter. On medium heat, bring to a boil, stirring constantly, until mixture is smooth and butter is melted.
Once it comes to a rolling boil, continue to stir constantly, and cook for 5 minutes.
After 5 minutes, remove from heat and stir in marshmallow fluff, chips, candy melts, vanilla, and peppermint. Mixture will be hard to stir, but continue stirring until ingredients are melted and smooth.
Once this is done, gently fold in M&M's and blend throughout mixture.
Spoon into prepared dish and let cool. Once cooled, cut into desired pieces.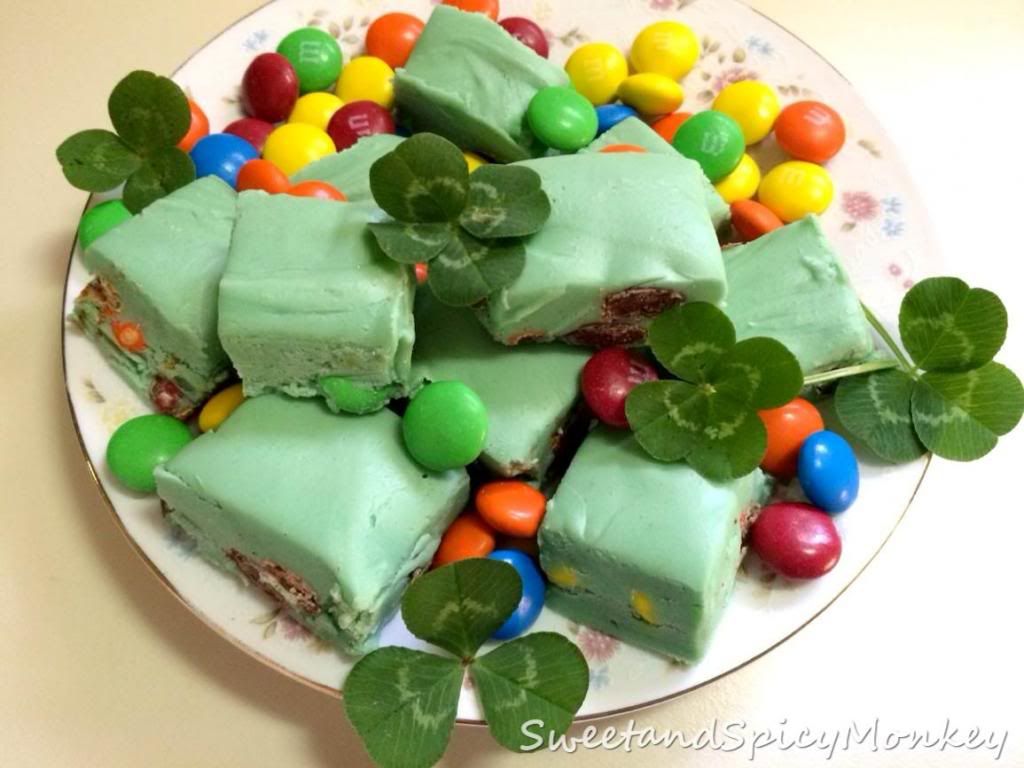 *Helpful Hints*
- If mixture becomes too difficult to stir when adding marshmallow, chips, candy melts, vanilla, and peppermint, simply return pan to burner and turn on lowest setting to help melt ingredients together.
- Remove from burner and follow directions as indicated. Do not have pan on burner when adding M&M's. You want M&M's to stay whole and not melt or break apart.

All content and images are property of Sweet and Spicy Monkey. Please do not reprint this content without my permission. If you wish to include this recipe on your site, please re-write in your own words and use your own photographs. Or you can link back to this post for the recipe.