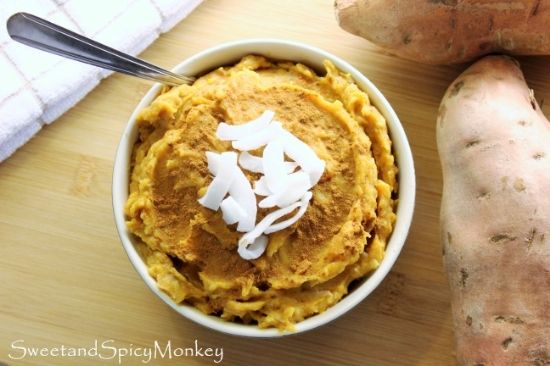 I know I'm a little late for Thanksgiving with this recipe but sweet potatoes are still in season. And I'm hoping Thanksgiving isn't the only time you eat these awkwardly shaped orange delights because they are so good and good for you.
Remember over the summer when I couldn't get enough coconut? Well, I still love the stuff and I've found a way to bring the taste of the tropics to my Fall and Winter menu. I've added coconut to my sweet potatoes! Oh. Yes. I. Did!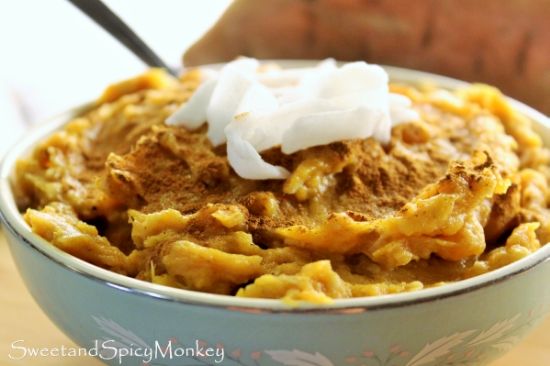 When I saw
FOOD52
making mashed sweet potatoes using coconut milk, it gave me an idea. On Thanksgiving, I added shredded coconut to my sweet potato and liked it. But it needed a little something else to moisten it up, which is when I remembered the coconut milk.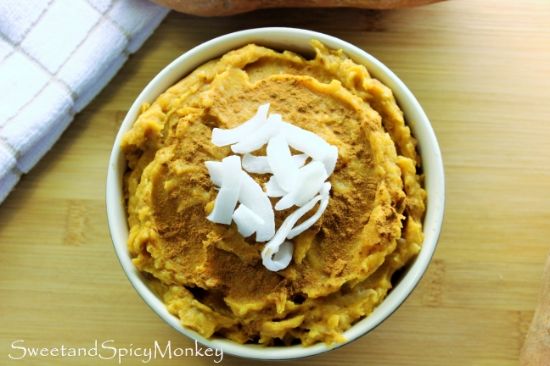 So the next time I cooked a couple sweet potatoes, I removed the skin, whipped them up, added brown sugar, coconut milk to help make them creamy and add a little coconut flavor, just a dab of butter, cinnamon, and shredded coconut flakes. The result was A-M-A-Z-I-N-G!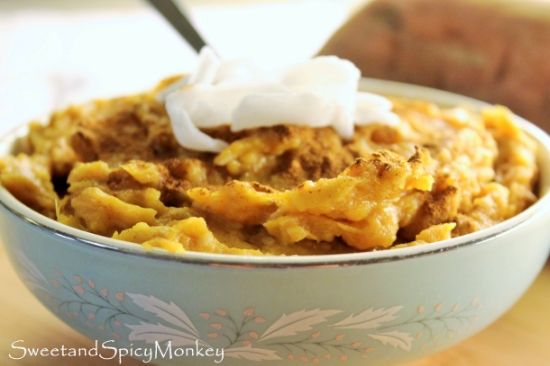 If you love coconut, then you'll absolutely flip for these sweet potatoes! They're sweet and creamy,
and I love the texture the coconut flakes bring to them. It's like a little taste of the islands brought to your table during these long cold winter months.
Watch me make this recipe on Simmer
here.
Coconut Sweet Potatoes
Serves 4
Ingredients
2 medium sweet potatoes - cooked, skinned, and quartered
1 Tablespoon unsalted butter (can also use margarine)
½ cup + 1 Tablespoon coconut milk, canned
6 Tablespoons brown sugar, packed
1 cup flaked coconut, unsweetened
1 teaspoon ground cinnamon
Dash of cinnamon for topping
Coconut strips for topping
Directions





If cooking in the oven, preheat oven to 325F degrees.



Line a cookie sheet with parchment paper and set aside.
Clean sweet potatoes under running water and scrub with a vegetable brush until clean. Dry.
Make a few holes in potatoes with a sharp knife and wrap in aluminum foil.
Place on a cookie sheet lined with parchment paper and cook for about 1 hour and 20 minutes or until sweet potato is tender. You should be able to easily insert a sharp knife or fork into the middle of the sweet potato flesh.
Remove from oven and unwrap to cool.
After cooling for about 10 minutes, move sweet potatoes to a cutting board and cut in half. Be careful as sweet potato will still be hot. You should be able to gently remove the skin with a knife and fork without touching the flesh with your fingers.
Cut into quarters and toss into a large mixing bowl.
Whip potatoes for about 1-2 minutes, or until potatoes are no longer solid.
Blend in butter and coconut milk until potatoes become creamier in texture.
Mix in brown sugar, flaked coconut, and cinnamon until all ingredients are blended.
Pour into a serving bowl. May have to heat in the microwave for a minute or two before serving if they have cooled off too much.
Top with a dash of cinnamon and a few coconut strips on top and serve.

*Helpful Hints*
- I prefer sweet potatoes cooked in the oven as to boiled in water since they retain more of their nutrients when cooked in the oven.
- I found parchment paper helped in not burning the bottom of my sweet potatoes as they cooked. If you don't have parchment paper, you can always turn them over through half of the cooking time.
- You can always add a little more coconut milk if you like a thinner texture to your potatoes.
All content and images are property of Sweet and Spicy Monkey. Please do not reprint this content without my permission. If you wish to include this recipe on your site, please re-write in your own words and use your own photographs and link back to this post for original recipe.

Follow Julie's board Sweet and Spicy Monkey on Pinterest.
Shared with: On Display Thursday #22 , Foodie Friends Friday Linky Party, Freedom Fridays with All My Bloggy Friends #58, Skip the Housework #45 Link Party, Mix it Up Monday!, Crafty and Delicious Party