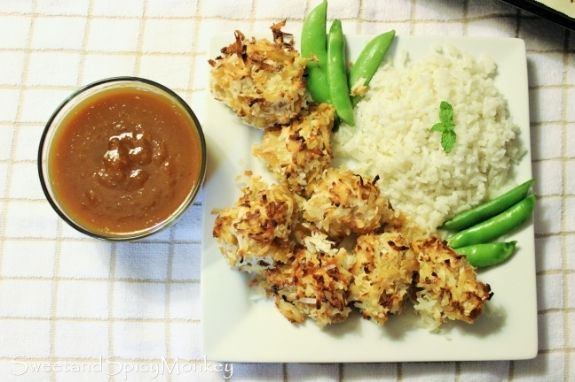 *Disclaimer - This is a sponsored post by
Tyson
and
The Daily Meal.
Recipes and opinions are 100% my own.*
Baby its cold outside! And what do we do when it gets cold and dreary out? We start daydreaming of sunny days, sandy beaches, warm blue waters, and start planning our summer vacations.
But I have a quicker and much tastier escape from these cold winter days that doesn't cost as much but reminds you of summer. I'm sharing with you my recipe for Crispy Coconut Chicken Strips with a Pineapple Ginger sauce for dipping and Coconut Rice.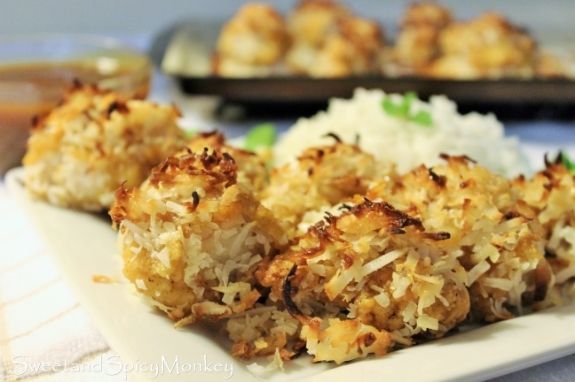 You know how I L-O-V-E my coconut and I especially love it when I get to use it in new ways.
The creamy coconut and juicy pineapple flavors will whisk you away to the tropics, making you wish summer would hurry up and get here already. Especially those of you who live in the northeast corner of the country that's blanketed with snow.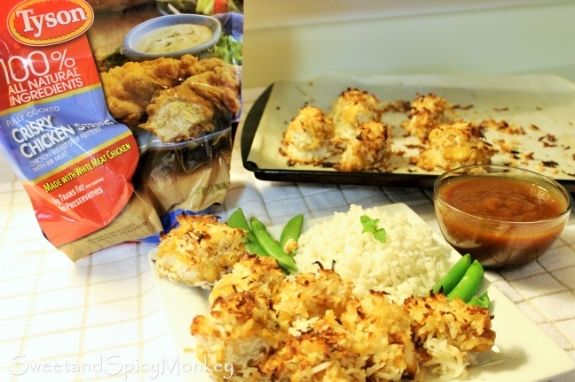 I simplified this recipe by using
Tyson Crispy Chicken Strips
instead of raw chicken.
Tyson Crispy Chicken Strips
are not only made with 100% all natural ingredients but they're also fully cooked when you buy them to help simplify your time in the kitchen. Not only do they make a quick and healthy meal for the family, but they also make for easy and nutritious after school snacks for the kids.
And let's not forget about this weekend's Superbowl party, where you can serve them with any type of dipping sauce from Ranch, barbeque, to my Pineapple Ginger sauce to satisfy any manly craving.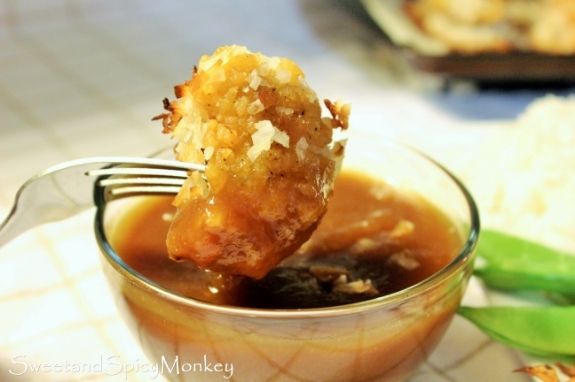 Anywho, back to the recipes I'm sharing with you, no matter what the weather is like outside, these Crispy Coconut Chicken Strips with Pineapple Ginger sauce will whisk you and your family away to the tropics with just one scrumptious bite.
Reminding you again, that summer days are just a few months away.
Crispy Coconut Chicken Strips
I
ngredients for Crispy Coconut Chicken Strips
1 package
Tyson's Crispy Chicken Strips
1 – 14 ounce bag flaked, sweetened coconut
Egg whites, 1 egg per 2 pieces of chicken strips
Honey for drizzling, at least 6 ounces
Directions for making Crispy Coconut Chicken Strips
Preheat oven to 400F degrees.
Line 2 cookie sheets with parchment paper.
Place chicken strips on prepared cookie sheets and cook for 20 minutes at 400F degrees.
Remove from oven.
Place egg whites in a small mug. Set aside.
Pour flaked coconut onto a clean plate.
After removing chicken strips from oven (be careful not to burn your fingers) cut strips into 2 to 3 inch pieces.
Grab a chicken piece and gently brush entire strip with egg white.
Drizzle a little honey over sides of chicken strip.
Roll coated chicken strip in flaked coconut until strip is covered.
Place back on cookie sheet with parchment paper.
Place back into the oven for 10-14 minutes, turning strips over halfway through after 5-7 minutes, so the bottoms can brown.
Remove from oven after 10-14 minutes or until coconut flakes are lightly browned.
Let cool for 5 minutes before serving. Remove from sheet with flat spatula.
Best served with pineapple ginger dipping sauce and Coconut rice.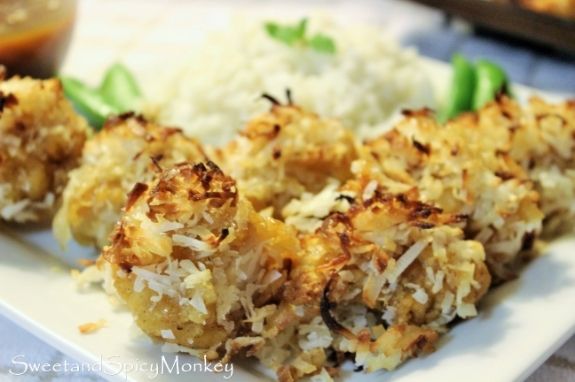 Pineapple Ginger Sauce
Makes 4 servings
Ingredients for Pineapple Ginger Sauce
1 and 1/2 cups pineapple chunks with juice
Juice of 2 limes
4 Tablespoons brown sugar, packed
2 teaspoons ground ginger
4 Tablespoons
pineapple jam
2 Tablespoons molasses
Dash of red crushed peppers (optional)*
Directions for Pineapple Ginger Sauce
Place pineapple + juice, lime juice, brown sugar, and ginger into a blender and puree until all ingredients are blended. Pour into a small saucepan.
Add in
pineapple jam
, molasses, and red pepper flakes*
Over medium heat, bring to a boil. Once boiling turn heat down to low and simmer for another 15-20 minutes, stirring occasionally.
Pour into small bowls for dipping.
Coconut Rice
Makes 6 servings
Ingredients for Coconut Rice
1 and ½ cups Jasmine rice
1 – 15 ounce can coconut milk
1 cup water
3 fresh basil leaves, washed and coarsely chopped
1 clove garlic, minced
½ teaspoon sea salt
Directions for Coconut Rice
Add all ingredients into a medium saucepan. Stir together over medium heat. Bring to a boil.
Turn heat down to low, cover, and simmer for 30 minutes.
After 30 minutes, remove from heat and let sit for 15 minutes, still covered, before stirring.
Serve warm.
All content and images are property of Sweet and Spicy Monkey. Please do not reprint this content without my permission. If you wish to include this recipe on your site, please re-write in your own words and use your own photographs and link back to this post for original recipe.

Follow Julie's board Sweet and Spicy Monkey on Pinterest.
Shared with: Savoring Saturdays #47, Sweet and Savoury Sundays #98