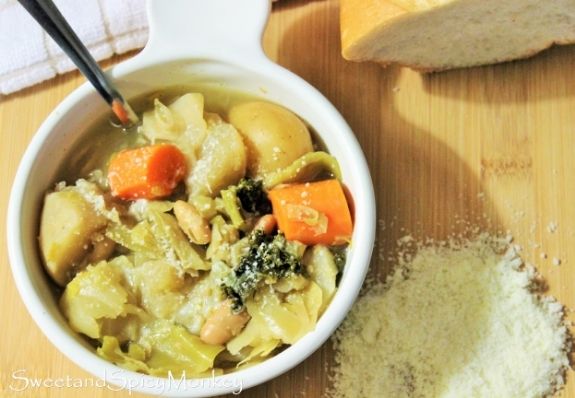 I know, it's spring, but the chill of winter is still lurking around, along with all this rain. And what better time to take advantage of all the fresh vegetables in the store right now than with this delicious Tuscan inspired Ribollita soup, also known as cabbage and white bean winter soup.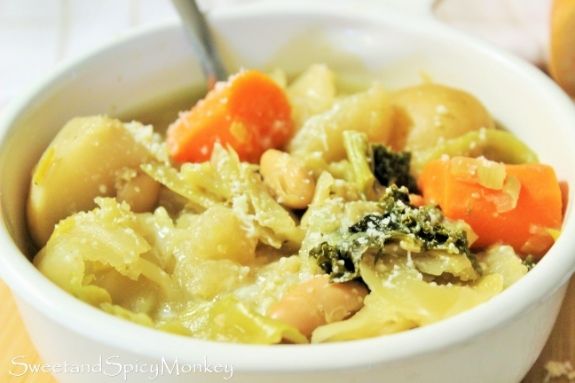 It's chocked full of good things like cabbage, kale, leeks, potatoes, carrots, turnips, onion, rosemary, thyme, and cannellini beans. It's a meal in itself!
Of course, I suggest serving some garlic cheese bread with it to help bring out the flavors of this soup, but that idea is totally up to you.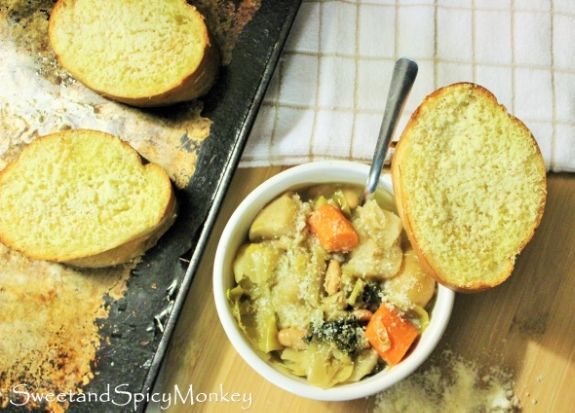 The best part about this soup? You can put all the veggies in your crockpot and let them cook all day to come home and find a delicious hot meal waiting for you!
I just love crockpot dishes! ❤
----------------------------------------------------------
Cold weather cabbage and white bean soup adapted from
Mario Batali
.
Yield:
a whole lotta soup

Ingredients
1.5 lbs.

Baby Dutch yellow potatoes

1.5 lbs.

carrots - washed, rinsed, peeled, and diced into 1-2 inch pieces

1 head

cabbage - rinsed and quartered

1 small bushel

kale - rinsed and coarsely chopped

2

Leeks - only the white and light green parts, rinsed and sliced thinly

3

turnips - washed and rinsed, cut into quarters

3

garlic cloves - sliced thin

2 sprigs

fresh thyme

2 sprigs

fresh rosemary

1

bay leaf

2 - 15.5 ounce cans

Cannellini beans, drained and rinsed

6-8 cups

vegetable broth

1/2 teaspoon

Dalmatian sage

Salt & Pepper

to taste

1/2 to 3/4 cup

Freshly grated parmesan cheese

1 loaf

French or Sourdough bread

1

sweet onion, diced

2 Tablespoons

olive oil
Cooking Directions
Prepare crockpot by generously wiping inside, bottom and sides, with olive oil.
Add potatoes, carrots, kale, cabbage, leeks, broth, and bay leaf into prepared crockpot and cover. If you don't have enough room for all listed ingredients, set cabbage quarters aside until other ingredients cook down, approximately 4 hours. Then add cabbage. Crockpot will be full.
Cook on High setting for 4 hours.
After 4 hours, place 1/2 cup warm broth (NOT hot), garlic, onion, rosemary leaves, and thyme leaves into a blender. Puree all ingredients together. If needed, add a little more broth or water to keep it liquefied. Pour into crockpot.
Pour in prepared Cannellini beans. If needed, add in more broth.
Add Dalmatian sage.
Add salt and pepper to taste. Mix all ingredients together. Place lid back on crockpot.
Cook for another 3-4 hours on High setting. Vegetables should be tender before serving.
Ladle soup into bowls and grate fresh parmesan over the top.
Serve with toasted French or Sourdough bread.



All content and images are property of Sweet and Spicy Monkey. Please do not reprint this content without my permission. If you wish to include this recipe on your site, please re-write in your own words and use your own photographs and link back to this post for original recipe.