To build upon our healthy food from last week is my Baked Cinnamon Apples which can be used for a topping on the Honey & Nut yogurt….or frozen vanilla yogurt, vanilla ice cream, pancake, waffles, or French toast topping, added to oatmeal, or just warmed and eaten plain out of a bowl! As a matter of fact, you can use apples to enhance the flavor for just about anything from sweets to pork chops, since apples compliment other foods with their sweet and tart flavors. Plus this recipe is easy to make, good for you, and gluten-free so you can enjoy it throughout the New Year without feeling guilty! And this is a great way to enjoy the tastes of apple pie without the crust!
After all, the # 1 New Year's resolution is to eat healthier and lose weight. And why should you have to eat bland, cardboard tasting foods to achieve that goal?? Apples have been proven to help you lose weight, reduce your risks of diabetes, reduce your cholesterol, boost your immune system, and help prevent cancer. Plus one apple contains as much as 4 grams of fiber! And baked apples are just another way of getting that good for you food into your new food plan!
Now that you're sold on the whole health idea, I just really had some apples laying around my kitchen and had to make something before they went bad! But apples really are good for you and this is a tasty way to add them into your diet.
So here's my recipe for Baked Cinnamon Apples that you can enjoy without feeling guilty! You can use any type of apple you like. I happened to have Fuji apples on hand because I like the fact that they're sweet and crisp and maintain their freshness a little longer around the house than other types of apples. Also, you'll notice that I left the skin on my apples since the apple peel contains most of the nutrients.
Baked Cinnamon Apples
Ingredients
4 apples (washed well, diced to your liking, and any type apple you prefer)
1 tablespoon organic brown sugar
2 tablespoons raw agave nectar
1 teaspoon cinnamon
¼ teaspoon nutmeg
Approximately 2 tablespoons water
Directions
Pre-heat oven to 350 degrees F.
Spray large oven-proof baking dish with non-stick spray or you can use butter. Set aside.
Core apples and dice into bite size chunks.
Place apple pieces into baking dish. Add brown sugar, agave nectar, cinnamon, nutmeg, and water. Mix well, making sure to thoroughly cover all apples pieces. If too dry, add a little more water to help moisten. You should have a little water on the bottom of the dish to help moisten while baking.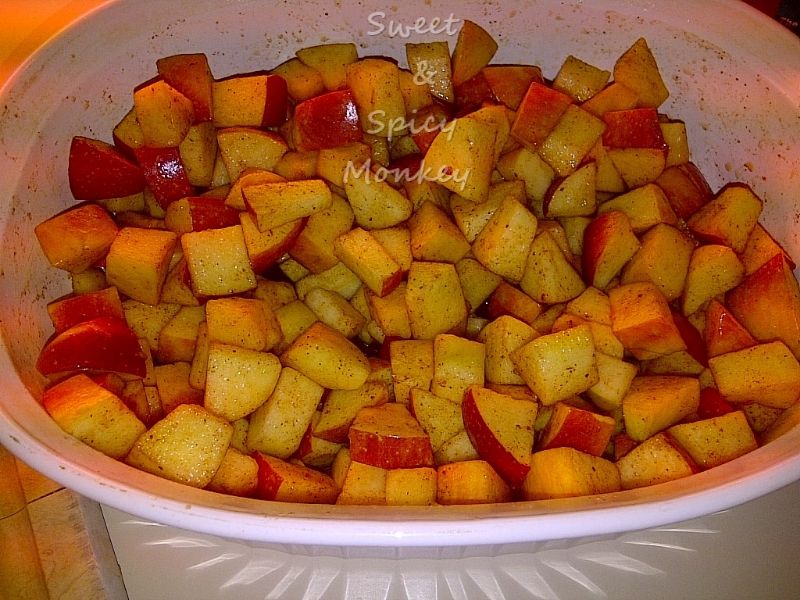 Place covered baking dish with apples in oven and bake for 1 hour at 350F or until desired consistency of apples. I prefer mine soft like in an apple pie, you might prefer a little crunch to your apples. Stirring every 15 minutes to help keep apple pieces moist.
Let sit for 10 minutes after taking out of the oven. Don't these apples just smell delicious?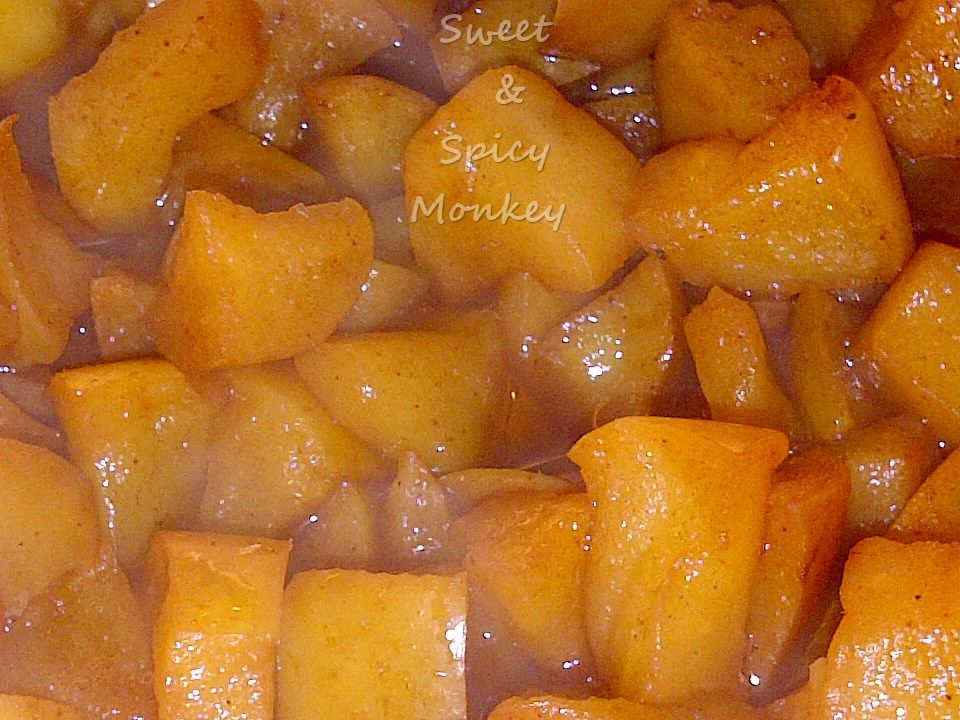 *Another great way to enjoy these is to have them with Stacy's cinnamon pita chips…Mmmm mmmm!!

All content and images are property of Sweet and Spicy Monkey. Please do not reprint this content without my permission. If you wish to include this recipe on your site, please re-write in your own words and use your own photographs. Or you can link back to this post for the recipe.