Happy New Year 2014! Woot! Woot! That's right I Wooted! I hope everybody had a great ending to 2013 and wishing y'all the best in the New Year!
As I was driving home this morning, I was thinking what better way to start the New Year than with two of my favorite foods – peanut butter and chocolate! Ah yes, while everyone else is riding the health wagon, I jumped off on the first day of the New Year because you can only improve from here!
Since breakfast is the most important meal of the day (although you can have these for lunch or dinner too), my peanut butter chocolate chip pancakes are really not all that bad for ya, considering peanut butter is a great source of protein and I use Maple Grove Farms Gluten-Free pancake mix.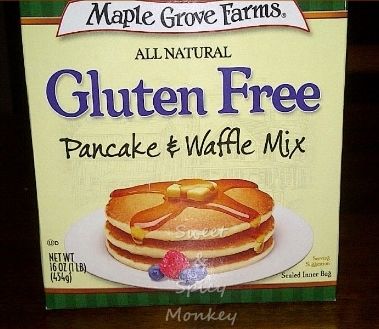 I also omitted the oil since peanut butter is a fat source and used water instead of milk. Plus peanut butter and chocolate are gluten-free. And the chocolate chips, well, everybody needs a little chocolate in their diet every now and then.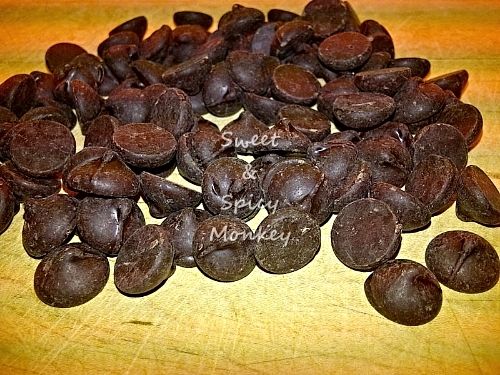 Because not only is chocolate a known antioxidant, but it has been found to contain a feel good chemical called an anandamide compound, which has been proven to help reduce stress (and you thought chocolate just tasted good). Anandamide is a chemical neurotransmitter that's produced naturally in the brain and temporarily blocks feelings of pain and depression. Which explains why you feel so good whenever you eat chocolate and why these peanut butter chocolate chip pancakes are the best way to start your New Year!
So let's get to making some good for you Peanut butter chocolate chip pancakes!
Gluten-Free Peanut Butter Chocolate Chip Pancakes
Cooking time – 10-15 minutes
Makes approximately 5 to 6, 4" pancakes
Ingredients
1 cup of Maple Grove Farms Gluten-Free pancake & waffle mix
¾ cup of water (you can also use milk, almond milk, or coconut milk)
1 egg
3 tablespoons Peanut butter (I prefer Jif creamy peanut butter. You can also use crunchy peanut butter)
½ cup to 1 cup of chocolate chips – depending on how chocolatey you want your pancakes (Both Toll House and Ghirardelli semi-sweet chocolate chips are gluten-free).
Directions
Grease skillet (I use Pam cooking spray for baking or making pancakes and waffles).
Preheat skillet as you prepare mix.
In a large mixing bowl, add pancake mix, water, and egg, mixing well. Batter should be smooth, a few dry clumps might still be visible, but don't worry about those right now as they should become thoroughly mixed with other added ingredients. Batter should be a little runny, not too thick.
Add in peanut butter, making sure to mix well throughout the batter. Stir in chocolate chips.
Once skillet is hot, spoon (a ladle works great for this) pancake batter into pan to desired shape of pancake. Wait until batter bubbles (approximately 1 minute) and flip pancake over, browning other side.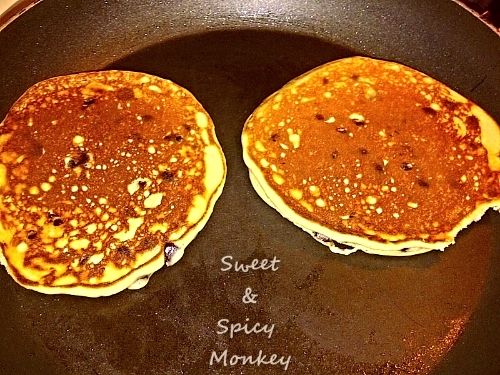 Checking for desired browning and when reached, remove from heat. Serve warm.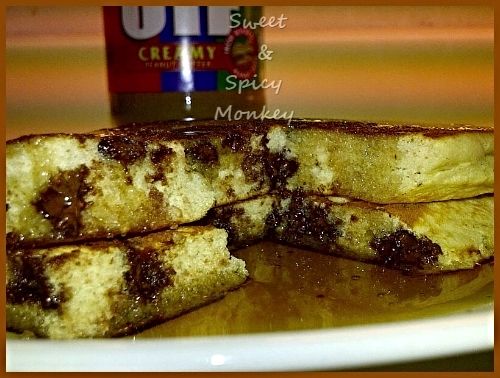 These pancakes are best enjoyed with butter and heated maple syrup. I just pour some maple syrup into a microwavable cup, heat for approximately 45-55 seconds and pour over pancakes.
Here's to beginning the New Year with a smile on your face :)

All content and images are property of Sweet and Spicy Monkey. Please do not reprint this content without my permission. If you wish to include this recipe on your site, please re-write in your own words and use your own photographs. Or you can link back to this post for the recipe.