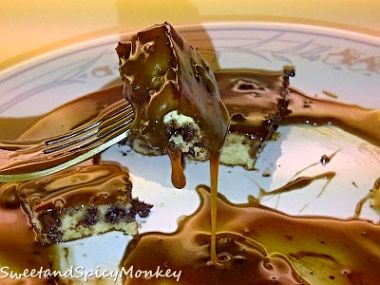 Lately my sweet tooth has me craving anything with peanut butter or chocolate. I love 'em both and I just can't get enough of either one so I've been searching for new and exciting ways for my taste buds to get their fill of 'em.
So there I was sitting at the breakfast table one morning while I was enjoying my peanut butter chocolate chip pancakes, and I thought to myself that these pancakes would be even yummier if I added peanut butter to the syrup!
So I fired up my computer and searched to see if anyone else had this great idea and to my surprise, there are plenty of others who think a lot like me! I couldn't believe my eyes! I guess peanut butter lovers everywhere just can't get enough of this creamy, peanutty spread and we want to add it to everything we eat. Needless to say, there are quite a few recipes out there for peanut butter syrup.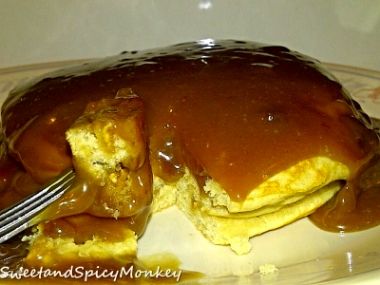 My original thought was to just add peanut butter to store bought syrup, heat it up, and pour it over pancakes. However, after looking through other recipes, I noticed most of them had one thing in common and that was adding vanilla extract to the syrup. This little secret of adding vanilla extract enhances the flavors of the syrup and peanut butter giving you a syrup with an extra layer of peanut butter flavor that makes your taste buds shout for joy and wanting more! I was literally eating this peanut butter syrup by the spoonful!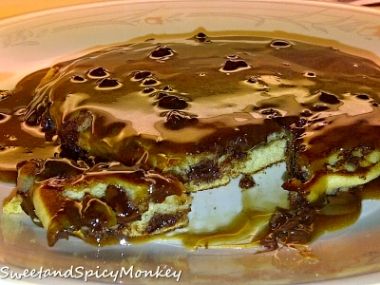 And what else could I add to this peanutty, ooey, gooey breakfast treat you ask? Well, it just wasn't fair to leave out the chocolate from all this peanut butter flavor, so I sprinkled some mini chocolate chips on top of the peanut butter syrup and I served it over my peanut butter chocolate chip pancakes!
Or for those that just want the rich, creamy peanutty flavor, you can serve it over pancakes without the chocolate chips.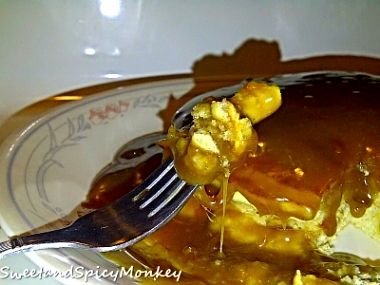 If you haven't already and you're a peanut butter lover, you have got to try this! This makes for a great breakfast to start your day no matter what your age!
Peanut Butter Syrup
Cook time - 5-7 minutes
Serves - 2
Ingredients
¾ cup pancake syrup
4 large spoonfuls of creamy peanut butter
1 teaspoon vanilla extract
Directions
Add all the ingredients in a small sauce pan and cook over low heat, stirring constantly* until peanut butter melts and mixture becomes a thick syrup.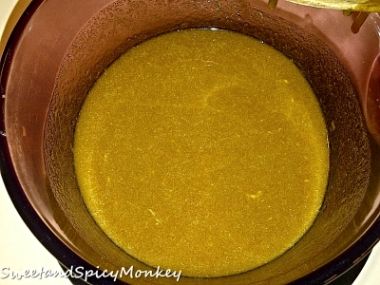 Remove from heat and serve warm over pancakes or waffles.
Sprinkle mini chocolate chips over the peanut butter syrup.
*Helpful hints*
- Make sure you stir ingredients constantly in pan or you will end up with small lumps as syrup mixture becomes too hot and will start to burn ingredients.

All content and images are property of Sweet and Spicy Monkey. Please do not reprint this content without my permission. If you wish to include this recipe on your site, please re-write in your own words and use your own photographs. Or you can link back to this post for the recipe.