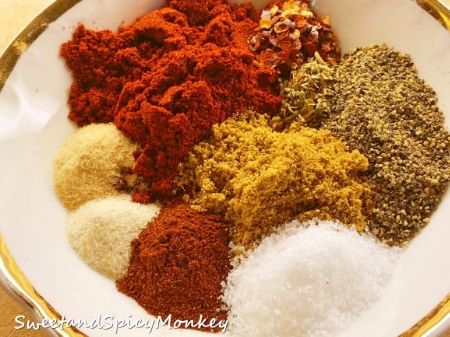 As y'all know, I love me some Mexican food! And taco seasoning is a great way to spice up the meats you're going to use in your Mexican dishes. Since I'm trying to cut out the preservatives, added salt and sugars, and artificial colors in my foods, I just had to try this recipe after I found it on Stephanie's site
Fit Mom in Training
.
An ingredient list for an average store bought taco seasoning consist of spices that include paprika, chili powder, oregano, and cumin. And other ingredients including onion, whey (milk), salt, sugar, garlic, potato starch, and citric acid.
Now I have never actually looked at the back of a seasoning packet to see what was in it before this. But after reading the ingredient list and seeing the added salt and sugar in it, I realized I was adding another 430 mg of sodium, 4 grams of carbs, and 1 gram of sugar to my diet! I like to refer to these as sneaky sources since you don't realize they are in the foods because you did not add them yourself. Something I could certainly do without!
I have tried other homemade taco seasoning recipes and found this one to be the best while tasting just like the store bought versions. After making this, I no longer buy store bought taco seasoning packets. This is my go to recipe whenever I'm making Mexican dishes.
It's easy to make and much cheaper than buying those store bought packets with all the added sodium and starch. Plus the spices used for making this are common and easy to find in your local store's spice aisle.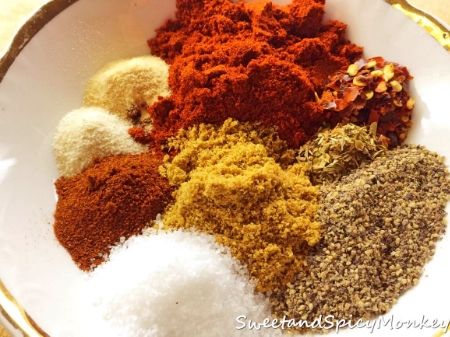 Homemade Taco Seasoning Recipe
Ingredients
1 Tablespoon chili powder
¼ teaspoon garlic powder
¼ teaspoon onion powder
¼ teaspoon crushed red pepper flakes (can use a little more or less, depending how hot you prefer your seasoning.)
¼ teaspoon dried oregano
½ teaspoon paprika
1 and ½ teaspoon ground cumin
1 teaspoon sea salt
1 teaspoon black pepper
Directions
Whisk all ingredients together in a small bowl and store in an airtight container.
Makes approximately ¼ cup of seasoning.
One store bought package of taco seasoning is equal to 6 Tablespoons, with a serving size of 1 Tablespoon.
*Helpful Hints*
- I use 2 teaspoons of this mix for recipes. Season to your taste.
- I keep mine stored in a zip lock bag in the freezer.
- You can cut the salt down or omit it altogether, depending on your diet and preference.
Shared with
Savoring Saturday's link party #10
at Eva's site Whole Food on a Budget, Kat's
Simply Living Simply Sunday Social Blog Hop #9
,
Wine'd Down Wednesday Link Party
,
Gluten-free Fridays #85
,
Take it on Tuesday Blog Hop #118
,
Cast Party Wednesday #136
,
Tex Mex Link Up 4/18/2014
Lou Lou Girls Fabulous Party- #4
,
Reasons to Skip the Housework Saturday
,
Munching Mondays #37

All content and images are property of Sweet and Spicy Monkey. Please do not reprint this content without my permission. If you wish to include this recipe on your site, please re-write in your own words and use your own photographs and link back to this post or for original recipe click here for Fit Mom in Training's website.