Spring is finally here and it's starting to warm up, a balmy 82 today here in Georgia! Good bye old man Winter! And with spring comes Easter, bringing back childhood memories of Easter baskets filled full with chocolate bunnies and jelly beans. I love Easter!
As I was shopping in my local supermarket today, I saw a display of Easter candy – Cadbury eggs, peeps, and jelly beans. And then I saw Starburst jellybeans and I immediately added them to my cart, along with some little peeps! How could I resist?
Initially, I was thinking of making cupcakes decorated with jellybeans for Easter and then I came across this recipe for Jellybean Bark by Lindsay of
Lee La La
. Now Lindsay used white candy melts for her bark, but with spring, I thought I would brighten these up with a little burst of color by using colored candy melts.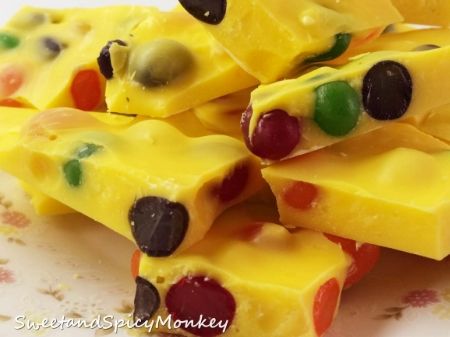 I used yellow which reminds me of the sunny days of spring and then I used green candy melts with the jellybeans, which give the appearance of Easter eggs hidden in the grass. You can use any color you like, as candy melts are available in a variety of colors.
And not only is this recipe easy to make but you only need three items to make it – parchment paper, candy melts, and jellybeans. No added shortening or butter like some of the other jellybean bark recipes. This recipe is also great if you have little ones that like to help out in the kitchen, since it requires no oven or stove top cooking.
So there it is, a quick and easy Easter recipe that only takes about 5 minutes to make, no cooking with the oven or stove top required, and kid friendly! And most important, it taste delicious! A chocolatey confectionery that has a different taste with every bite, especially if you use the Starburst jellybeans that are flavored cherry, orange, green apple, strawberry, lemon, and grape!
Jellybean Bark
Ingredients
1 bag of candy melts
1 bag of jellybeans (I used Starburst jellybeans)
Parchment paper
Directions
Line cookie sheet with parchment paper and pour half the bag of jellybeans on pan. Set aside.
Empty bag of candy melts into a large glass measuring cup, 2 cup or 4 cup size works well, or a microwave friendly bowl.
Heat candy melts in microwave, removing from microwave and stirring every 30 seconds until candy is thoroughly melted. *You don't want them to burn.*
Once candy melts are melted, using a spatula, pour over jellybeans, spreading evenly. Place rest of jellybeans on top and place pan in refrigerator for 1 hour.
After bark is chilled, break into smaller pieces and enjoy, after all this hard work, you deserve it!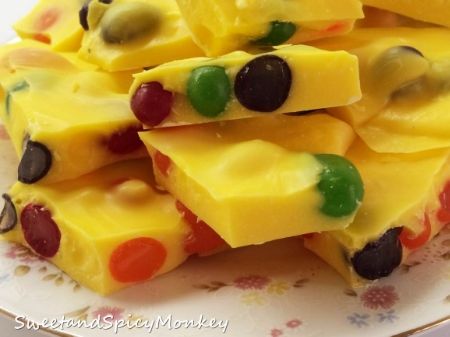 Shared with
Great Idea Thursdays #49 Link Party
,
Six Sister's Stuff ~ Strut Your Stuff Saturday Link Party Week 141
,
Flour Me with Love's Mix it up Monday Link Party
,
Jam Hands ~ Recipe Sharing Monday #89
,
the Sweet Tea Social Link Party
hosted by Texas Women Bloggers,
Flamingo Toes ~ Think Pink Sunday #159 Link Party
,
Sunday Sharing Pinterest Party at Adventures with Jude
,
The Girl Creative's Sunday Best Linky Party
,
Share Your Stuff Tuesdays @ Our Table for Seven
,
Take it on Tuesday #118 with Hi! It's Jilly
,
Wow Us Wednesday Link Party #8
,
Pinworthy Projects Link Party #13
,
Foodie Friends Friday Linky Party #141
All content and images are property of Sweet and Spicy Monkey. Please do not reprint this content without my permission. If you wish to include this recipe on your site, please re-write in your own words and use your own photographs and link back to this post for original recipe.