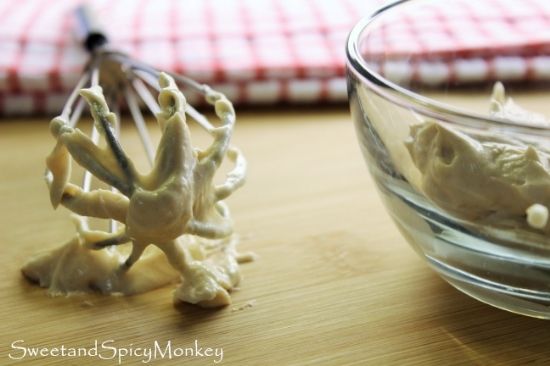 So glad you joined me on the peanut butter wagon last week because today we're traveling a little farther down that road. We're continuing the peanut butter love today with peanut butter whipped cream! Just thinking about it gives me shivers all over. Light and fluffy, creamy peanut butter whipped, just like 50 Shades of Grey, except faster and no marks!
Just think of the possibilities for this whipped cream:
As a topping for pie, cake, pudding, or ice cream
Pancakes, French toast, or waffles topping
Your morning coffee, not to mention iced Frappuccino's (Mmmm, peanut butter coffee!)
Sandwiched between cookies
Mixed with a little granola
Used for a fruit dip, especially apples
Or the guilty pleasure of dipping your finger into the jar when nobody is looking!
Oh, I can go on but I think you get the hint. If you love peanut butter, then the possibilities of this whipped cream are endless. The best part is it only takes minutes to whip up and it taste so much better than anything store bought.
And the peanut butter love doesn't stop here. So keep your hands and feet in the wagon, grab a spoon (preferably with this peanut butter whipped cream), and enjoy yourselves as we travel deeper into peanut butter land....
Peanut Butter Whipped Cream
Ingredients
1 cup heavy cream
¼ cup confectioner's sugar
2 Tablespoons creamy peanut butter
½ teaspoon vanilla extract
Directions
Add all ingredients into a large mixing bowl and using your stand mixer (or hand mixer) whip at medium-high to high speed until mixture thickens and soft peaks form.
Place into an airtight container and refrigerate.
Can store up to 1 week in refrigerator.
Recipe from ~
Food Network
*Helpful Hints*
- All measurements are US
All content and images are property of Sweet and Spicy Monkey. Please do not reprint this content without my permission. If you wish to include this recipe on your site, please re-write in your own words and use your own photographs and link back to this post for original recipe.

Follow Julie's board Sweet and Spicy Monkey on Pinterest.
Shared with: The Southern Special 28, Tasty Tuesday Recipe Link Up, Lou Lou Girls Fabulous Party #28, On Display Thursday Linky Party #17