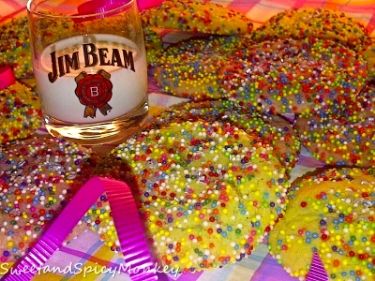 Today is the one month anniversary of Sweet and Spicy Monkey! And this whole food blog thing isn't as easy as it seems…a lot of hard work with long hours in the kitchen go into the makings of a food blog. Countless recipes, decisions of what to make, the cooking and baking process, writing, and the photos (which I'm working on still and hopefully will be getting a new camera soon to help with this process). My hat goes off to the people that do this full time and make it look so easy! But I am rolling up my sleeves while furrowing my brow as I stumble on through the learning process of having a food blog with you by my side.
For starters, I would like to say thank you for stopping by and reading Sweet and Spicy Monkey and I love y'all!!! I couldn't have done it without you and I hope to be doing this a year from now too as I enjoy cooking, baking, and sharing. THANK YOU!!! Xoxo
So to celebrate this special occasion, I am making pink and yellow sprinkle cookies because I like pink and yellow and nothing else says "celebrate" like sprinkles! And I know y'all need a little something special to get through this January gloom and sprinkle cookies make everybody smile!
Let's get to celebrating!!!!!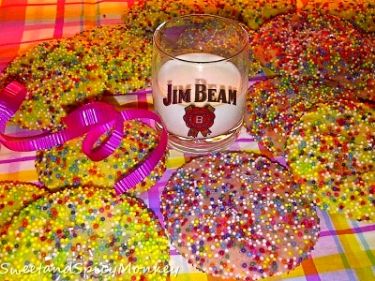 Pink and Yellow Sprinkle Cookies
Ingredients
½ cup unsalted butter, softened to room temperature
¾ cup granulated sugar
1 large egg, room temperature
1 teaspoon Vanilla extract
1 and ½ cups all-purpose flour
¼ teaspoon salt
1 teaspoon baking powder
½ teaspoon baking soda
1 Tablespoon cornstarch
¼ cup Nonpareils sprinkles for
mixing with
dough
2-3 drops of Red food coloring
2-3 drops of yellow food coloring
1 cup Nonpareils sprinkles in a bowl for rolling dough balls in
before
baking
A sprinkling of Decorating cupcake gems in Shimmer Silver for sprinkling on top
after
baking.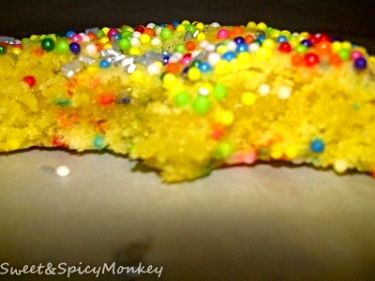 Directions
In a large mixing bowl, beat butter until creamy.
Add sugar until blended.
Add egg and vanilla, mixing well.
In a medium bowl, combine flour, salt, baking powder, baking soda, and cornstarch. Mix dry ingredients with a fork (a couple circles in the bowl with a fork should do it).
Slowly add dry ingredients to wet, mixing well. (I did this part by hand since the dough mixture is thick).
After blending in dry ingredients, add ¼ cup sprinkles and mix throughout dough.
Once combined, separate into two dough balls and place into separate bowls. We're getting ready to add the food coloring, so if you are only doing one color or no color, you can keep dough in one bowl.
Once separated, add a couple drops of yellow food coloring to one of the dough mixes and knead by hand. You do not have to have coloring throughout dough, just knead out dark spots of coloring. Set aside.
Add a couple drops of red food coloring to other dough mix, again kneading by hand just enough to remove dark coloring.
Cover both bowls and place in refrigerator to chill for 2 hours. *This step is important as it helps cookies from flattening out when baking.*
After 2 hours, preheat oven to 350F degrees.
Line cookie sheets with parchment paper.
Remove one bowl from the refrigerator and spooning 1 Tablespoon full of dough mix into your hands, make a ball. Continue to make balls for rest of dough mix. Best to do this one bowl at a time since you want to keep dough chilled before baking.
Pour one cup of sprinkles in clean bowl and roll balls in bowl until thoroughly coated with sprinkles and place onto lined cookie sheet. Place 3 inches apart.
Place cookie sheet with sprinkled balls into oven and bake for 10 minutes at 350F degrees.
After 10 minutes, remove cookie sheet from oven and sprinkle a little of the Shimmer Silver cupcake gems on top.
Let cookies cool 5 minutes before transferring to a wire rack where they can cool completely.
Cookies should be stored in an air tight container where they will remain fresh for up to 1 week.
Yields – 18 cookies
Prep time – 2 hours and 45 minutes (includes chilling time).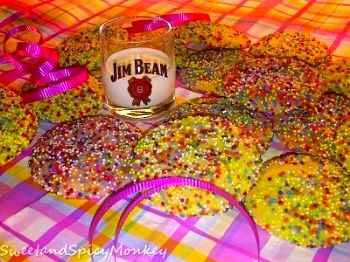 All content and images are property of Sweet and Spicy Monkey. Please do not reprint this content without my permission. If you wish to include this recipe on your site, please re-write in your own words and use your own photographs. Or you can link back to this post for the recipe.