If you don't know it yet, I love my peanut butter and chocolate, together or separate, I just love them both! And since no one yet has perfected the addition of bananas to a cookie where all these flavors can be combined into a little sweet treat, then the next best place to finding them all together is in grandma's old fashioned banana bread.
You heard me right, chocolate chip peanut butter banana bread! Mmmm…...I think I just drooled on my keyboard thinking about it! It has just the right amount of flavorings of bananas paired with peanut butter and chocolate while not to sweet, but just enough to satisfy your sweet cravings.
Now when I first heard about my two favorite flavors, peanut butter and chocolate, being added to banana bread, I just knew I had to make this right away. But snow storm Pax had other plans, leaving me unable to get out to my local supermarket to pick up all the ingredients. So I waited…and waited…and waited some more until finally I was able to break free from my neighborhood and drive into town!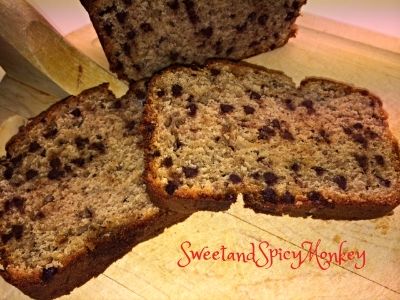 This recipe is adapted from
the Brown Eyed Baker
. The change I incorporated was using mini morsels instead of regular chocolate chips. I just thought the mini morsels would be better because you would still be getting the chocolate flavor without overpowering the banana and peanut butter flavors. And by adding Reese's peanut butter chips, you get a little extra peanut butter flavoring to the bread.
This bread is really simple to make. You just mix everything together, pour it in the pan, toss it in the oven, and go find something to do for about 1 hour or a little after until you take it out of the oven.
You can enjoy this chocolate chip peanut butter banana bread any time of the day, at breakfast with a cup of coffee or as a mid-afternoon snack with a tall, cold glass of milk. Whatever time of day it is, you're sure to enjoy this chocolate chip peanut butter banana bread!
Chocolate Chip Peanut Butter Banana Bread
Ingredients
2 cups all-purpose flour
¾ teaspoon baking soda
½ teaspoon salt
3 medium bananas, mashed
½ cup creamy peanut butter
½ cup granulated sugar
½ cup brown sugar, packed
1/3 cup buttermilk
¼ cup oil
2 eggs
2 teaspoons vanilla extract
1 cup semi-sweet chocolate mini morsels
3/4 cup Reese's peanut butter chips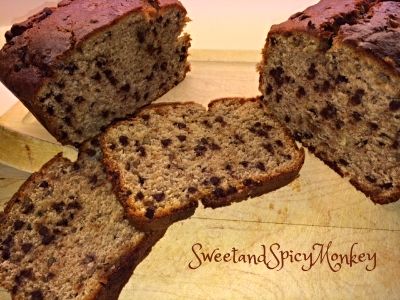 Directions
Preheat oven to 350F degrees.
Spray an 8" x 4" bread pan with a non-stick cooking spray. Then line same pan with parchment paper so it hangs over the two long sides.
In a medium mixing bowl combine flour, baking soda, and salt. Set aside.
In a large mixing bowl, blend together remaining ingredients of mashed bananas, peanut butter, sugars, buttermilk, oil, eggs, and vanilla until it becomes a creamy mixture.
Add dry ingredients to creamy mixture a little at a time, blending thoroughly.
Stir in chocolate morsels and peanut butter chips.
Pour mixture into your prepared pan with parchment paper. Filling approximately 2" from the top **so it has room to expand while baking.
Bake for approximately 1 hour to 1 hour and 15 minutes or until top is golden brown and knife or toothpick comes out clean when inserted into middle of bread.
Remove from oven and let cool in pan for approximately 10 minutes.
After 10 minutes, remove bread from pan and place on a wire rack where it can cool completely.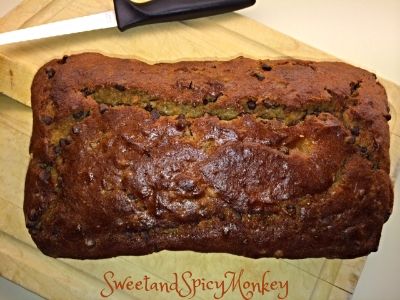 Bread can be stored up to 5 days in an airtight container, Ziploc bag, or plastic wrap.
*Helpful Hints*
- I prefer to use sea salt and sunflower oil instead of table salt and vegetable oil.
- You can substitute ¼ cup of apple sauce for the oil.
- You can use regular semi-sweet chocolate chips but I find the mini's don't have an overpowering taste of chocolate.
- The parchment paper makes for easy removal of the bread from the pan and also helps prevent the bottom and sides from burning.

All content and images are property of Sweet and Spicy Monkey. Please do not reprint this content without my permission. If you wish to include this recipe on your site, please re-write in your own words and use your own photographs. Or you can link back to this post for the recipe.