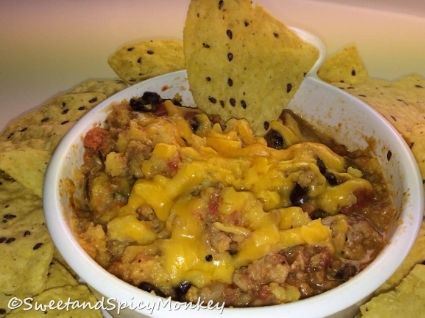 I've been making a few minor changes here to my blog as I'm sure y'all have noticed. Please bear with me as there will be more as I learn more about blogging. After all I am only three months into it and I know there is much more for me to learn. So be patient and hang in there with me and let me know your feedback on it since this is technically "our" blog. I couldn't do this without you and I would love to hear what you think too!
As you all know by now, Mexican food is my favorite and it's been awhile since I made any Mexican inspired dishes, until yesterday. I came across this recipe on Pinterest because they really have a great selection of dishes to choose from and it's much easier to search than the web. Really, if you haven't ever been on Pinterest, you need to go right now! I love it!
Back to my Mexican dish for you…today I am going to share with you my Tamale pie recipe. I adapted this recipe from Barb Gertz'
Mexican Polenta pie
. Now I have never heard of polenta and this is my first recipe ever cooking with polenta and I have got to say, I really like the stuff.
Polenta is a gluten-free European food, popular with Italian and French cooking. Basically, it's cornmeal boiled into a porridge. I guess you can call it European grits! I'm sure I'm gonna catch a lot of flack for that comment from those fancy Europeans (Ha-ha).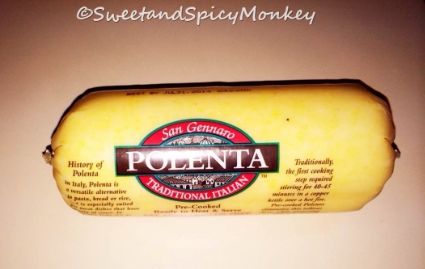 Just like grits, polenta is a very versatile food that can be baked, grilled, fried, or just eaten as a porridge. Unlike grits, polenta takes a long time to cook and has to be stirred constantly throughout the cooking process.
The main difference between polenta and grits, is polenta is made from ground corn meal, corn that hasn't been processed. While grits are made from a cooked, coarsely ground, alkali-treated, hominy. Which is corn that has been soaked in an alkaline solution like lime, wood ash, or lye to soften the cellulose shell and make the corn more digestible. Doesn't make grits sound too appetizing when you put it that way. Thank goodness, the Europeans have polenta!
This tamale pie recipe incorporates polenta as the base for the "crusts" which gives a corn-like texture and delicious corn taste to the dish, while remaining gluten-free. This was my first time cooking with polenta and I can assure you, it won't be my last, as I'm going to try other dishes made with this yellow, mushy stuff called polenta.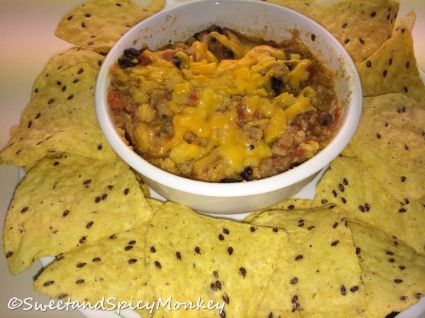 Here's my recipe for Tamale Pie and I hope you enjoy this dish with polenta as much as I did. And if you've ever cooked with polenta, I'd love for you to share your recipes below.
Tamale Pie
Ingredients
1 lb. ground chicken (can also use beef or turkey)
2 jalapenos, seeded and diced (if you don't like too much spicy, you can use only 1 jalapeno)
1 medium onion, diced
4 garlic cloves, minced
1 Tablespoon olive oil
½ teaspoon chili powder
½ teaspoon McCormick's Chipotle chili powder
4 Tablespoons ground cumin
¼ teaspoon cayenne pepper
½ teaspoon crushed red pepper flakes
1 cup fresh salsa
1- 15.25 ounce can of black beans, drained and rinsed
1- 14.5 ounce can fire-roasted, salsa-style, diced tomatoes, undrained
1 - 3.8 ounce can of sliced black olives, drained
1 cup pepper jack cheese, shredded
1 cup cheddar cheese, shredded
1 tomato, diced
2 – 16 ounce packages of cooked polenta (found by noodle section)
2 Tablespoons Fresh cilantro, rinsed and diced
*Optional for taste while browning meat – onion powder, garlic powder, salt, pepper, oregano, paprika, crushed red peppers, and more cumin.
Directions
Preheat oven to 375F degrees.
Spray oven-proof 3 quart casserole dish with non-stick cooking spray, wiping entire inside of dish and any excess off with a paper towel. Set aside.
In a large skillet, add 1 Tablespoon olive oil and heat. Once oil is heated, add in onion, garlic, and jalapenos, cooking until tender.
Add ground meat, cumin, chili powder, and cayenne peppers into skillet mix and continue cooking until meat is browned, pink is no longer visible. As meat is cooking, season to taste with salt, pepper, and *optional spices.
Combine beans, canned diced tomatoes, salsa, olives, and cilantro with meat mixture. Bring to a boil.
Once mixture is boiling, turn heat down to low, and simmer for 15 minutes, uncovered.
While meat mix is simmering, prepare polenta by opening one package and cutting into slices or small cubes. Place sliced/cubed polenta in a large mixing bowl and using a pastry cutter or potato masher, mash polenta until it resembles a coarse meal with large crumbs.
Place one package of mashed polenta on bottom of casserole dish, spreading evenly.
Sprinkle ½ cup pepper jack cheese and ½ cup cheddar cheese over mashed polenta.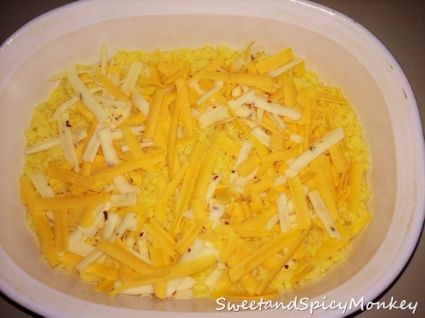 After meat mix has simmered for 15 minutes, slowly add meat mixture over prepared polenta and cheese.
Prepare second package of polenta same as first, slicing or cubing polenta and then mashing it in a large mixing bowl.
Sprinkle remaining polenta over meat mixture and top with remaining cheeses.
Place uncovered dish in oven for 35 minutes or until bubbly.
Remove from oven and let stand for 15-20 minutes.
Serve topped with diced tomatoes.
*Can also be topped with sour cream, fresh avocado, salsa, and tortilla chips.
Recipe shared on Linda's website
The Gluten-free Homemaker ~ Gluten-free Wednesdays

All content and images are property of Sweet and Spicy Monkey. Please do not reprint this content without my permission. If you wish to include this recipe on your site, please re-write in your own words and use your own photographs and link back to this post for original recipe.